Climate experts point the finger more conclusively at role of human greenhouse gases in global warming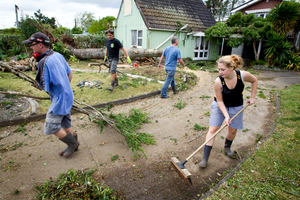 The world's most important climate science report is unveiled tonight and Kiwis can expect warmer temperatures alongside more extreme rainfall and winds.
The draft fifth assessment report from the UN Intergovernmental Panel on Climate Change (IPCC) - more than 2000 pages long - is to be released about 8pm New Zealand time. Based on leaks from the report, it is expected to:
• Increase the likelihood that humans' greenhouse gas emissions are responsible for the majority of climate change to 95 per cent from the previous 2007 report's figure of 90 per cent and from just over 50 per cent in 1995.
• Show combined land and ocean temperature figures reporting a rise of about 0.8C between 1901 and 2010 and of about 0.5C between 1979 and 2010.
• Marginally reduce the minimum temperature increase from long-term climate change to 1.5C from 2C in 2007. The upper-end rate of 4.5C will remain.
• Reveal that the concentration of carbon dioxide in the atmosphere in May breached the milestone level of 400 parts per million for the first time in five million years.
Victoria University climate scientist Dr James Renwick was involved in writing a chapter of the report on regional changes in climate.
Authors were instructed not to reveal any contents of the report before the official release, but Dr Renwick said it contained interesting findings directly relevant to New Zealand and Australia.
"One thing I could say is that the sorts of things that came out of the last IPCC report and about the patterns of change don't look much different down the track," he said.
"The numbers are a bit different, but the overall picture really hasn't changed for 10 years at least."
It's believed Kiwis can expect a climate on average 0.9C warmer by 2040, and 2.1C warmer by 2090.
This would bring heavier and more frequent extreme rainfall, stronger extreme winter winds, longer droughts, more hot days and changes in acidity in cooler waters.
"It is a critically important issue - in my opinion, the most critically important for all of us," he said.
But Dr Renwick doubted whether the average New Zealander even knew about the report.
"If you walked down Lambton Quay or Queen St and asked people, my guess is that most people wouldn't have a clue what you were talking about."
New Zealand has had a strong input into the report.
Dr David Wratt, Niwa's chief scientist and vice-chairman of the IPCC Working Group 1, joked New Zealand was likely the world leader in "IPCC lead authors per capita".
Dr Wratt believed this reflected the "very high standing of many of our scientists and the research that they do, which perhaps isn't really recognised by people here".
Climate update
Main differences between the IPCC's fourth assessment report (AR4) in 2007 and this year's fifth report (AR5).
• Number of lead authors: AR4: 178; AR5: 258
• Forecasting models: AR4: 20; AR5: 45
• Pages: AR4: 1006; AR5: 2014
• Conclusions:
AR4: "Most of the observed increase in global average temperatures since the the mid-20th century is very (more than 90 per cent) likely due to the observed increase in anthropogenic greenhouse gas concentrations."
AR5 (based on leaked draft): "It is extremely (more than 95 per cent) likely that human influence on climate caused more than half of the observed increase in global average surface temperature from 1951 to 2010."