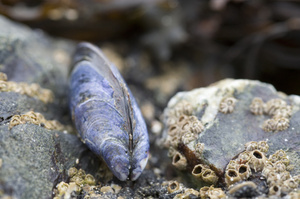 MUSSEL MUSCLE: Backpacks on mussels? Researchers at the University of Iowa attached wireless sensor packages to Mississippi river mussels that measure how open their shells are. Data is sent to a station on shore that relays it to a lab for analysis. Mussels change how open their shells are in response to water conditions. That data could help scientists monitor water quality, including factors like varying nitrogen levels and pollutants. One reason for using mussels is that they keep themselves clean, so the monitors could last for years. Mussels that pack a punch.
YOUR INNER WORLD: Take a 3D tour of your esophagus. Researchers at the Massachusetts General Hospital can now save you from an anaesthetic while they check your esophagus for damage that could lead to cancer.
Their new device puts a tiny camera in a transparent capsule that the patient swallows with a glass of water. The capsule is on a tether that sends data back to a computer and imaging device. Infrared light is reflected off the esophagus walls, compared with a reference beam, and used to reconstruct a thin cross section of the esophagus in microscopic detail. Individual images can be stacked to create a 3D image. That's easier than an anaesthetic for sure, but having that wire down your throat, and then getting the capsule out again would surely have you gagging.
HOT SPOTS: The tiny LifeMonitor capsule could save the lives of firefighters one day. In a trial in Australia firefighters swallowed the capsules which contain a thermometer and small transmitter. The pill sends real-time data on the firefighter's core temperature to a device on the chest that also collects skin temperature, heart and respiration rate data. All the data is then sent to an external computer. A more accurate reading of core temperature can help managers make better decisions on when to withdraw individual firefighters from hot situations where heat stress may overcome them. The pill is excreted naturally after a couple of days. So popping pills could be cool after all.
SPEED BUMPS: Wilocity's wifi is much faster than current wifi. Traditional wifi uses the now congested 2.4GHz and 5GHz bands to achieve speeds around 1 gigabit per second. Wilocity wifi uses the 60GHz frequency and reaches speeds up to around 7 gigabits per second. On the other hand, even thin walls can block it so systems would fall back to the slower versions if devices weren't in the same room. Still, faster for some of the time is better than always slower.
PUFFED UP: In 2015 the International Space Station will expand in size thanks to a Bigelow Expandable Activity Module, or BEAM. The module is transported flat and will then be pressurised on arrival so it expands to its full size. BEAM will be tested for 2 years, then will be jettisoned and burn up on re-entry. If the testing shows the module is suitable then similar modules could be used in future human spaceflight to more distant targets. Why jettison it, rather than keeping it hanging round?
Miraz Jordan, knowit.co.nz