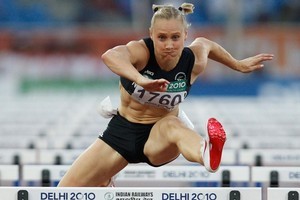 Most athletes would crawl over broken glass if it meant winning a medal.
Hurdler Andrea Miller, who won bronze yesterday, put a unique twist on that by walking into a plate of glass in the lead-up to the Commonwealth Games.
The Gold Coast-based runner was moving furniture into a new flat when a blown fuse tripped the lights.
"It was a brand new home that I had just moved into and I didn't know the layout, hence the glass door. I just laughed. I iced my nose through the night and was saying to my flatmate, 'Do you think I could have broken it?"'
Not only had Miller cracked her septum, she also had concussion, which she realised when feeling unwell while training the next day.
Concussion meant two weeks without training. With the Commonwealth Games looming as the highlight of an otherwise injury-plagued year, it was not great timing. When she was finally diagnosed with a broken nose, she opted to have it reset so it would not affect her breathing, meaning a further fortnight away from the track.
Proving that bad luck comes in threes, she was one of around 50,000 passengers affected when Virgin Blue's computer system crashed, meaning she could not join the rest of the New Zealand track team in Hong Kong for their pre-Games camp. She returned to Brisbane to train alone.
That might be why she flew under the radar a little when assessing New Zealand's chances of track medals.
"I went into this as a bit of an unknown but I knew I had it there to come home with a medal. I did what I came to do, so I'm definitely satisfied."
The 28-year-old physiotherapist - she works in a private clinic at the Gold Coast's Griffith University - formed the bronze half of a notable double in the 100m hurdles. Sally Pearson, who was controversially disqualified after winning the 100m in Delhi, is her training partner and they share coach Sharon Hannan.
"She came from friggin' last," an ecstatic Hannan said.
That she did. Miller's race plan was succinct - "to run like hell" - but it didn't work that way out of the blocks.
"I mistimed the start, but fortunately I was still quicker than most of the other girls and was able to come home strong," Miller said.
Hannan believes there is still a sub-13s runner in Miller. She'll need to be right. The "A" qualifying standard for the Olympic 100m hurdles is 12.96s, under her 13.1s PB and .29s quicker than her medal-winning time.
"I've just been really unlucky this year. I haven't had four weeks of training strung together. If I can run like that without really training, there is so much more there. I'm more than confident I'll come through."
Fellow sprinter Monique Williams finished sixth in her 200m final, which had been delayed from Monday.
The Tokoroa sprinter finished in 23.71s, .82s behind Cayman Island winner Cydonie Mothersill.
The 25-year-old drew the outside lane, despite qualifying fifth for the final, a placing that would normally see her in lane eight or three.