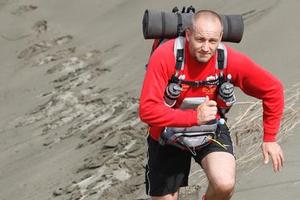 A Christchurch-based retired British Army corporal is about to embark on the race of his life, a 250km slog through the Sahara Desert equivalent to six back-to-back marathons.
Rob Orchard - who served in Bosnia and Northern Ireland - will join up to 800 others for this year's Marathon des Sables in North Africa.
But just getting to the starting line has been a mission for the 37-year-old.
"I decided two and a half years ago I wanted to have a go," said Mr Orchard, who is using the race to raise funds for the Starship Foundation.
"I applied then but for the next two years I missed out. Initially I also missed out for this year but last July I came off the wait list and in August my entry was confirmed."
There are no corner dairies, showers, decent loos or any other home comforts as race entrants plod along using the stars, a compass and whatever other means they can find to get from point A to point B.
Daily legs vary from 25km on the first day, to 85 km on day five. The final day involves a 22km trek.
Much of the race will take place over rocky terrain and dunes, in temperatures of up to 48C.
"We have to carry everything - food, clothes, a medical kit, sleeping bag and, most importantly, water," said Mr Orchard, who has been preparing under the eye of personal trainer Matt Austin at a Christchurch gym.
"Pacing myself has been paramount," said Mr Orchard who has run half marathons but has yet to tackle a "conventional [42.1km]" marathon.
"The furthest I have run was about 60km when I was in the Army. This will be a lot different. In training it has been more a case of holding back and running slowly rather than going all-out to cover a certain distance."
He has estimated a time of about 48 hours. The first runners home will cover the distance in less than half that.
During the race, which takes a different course every year, competitors will guzzle more than 100,000 litres between them. Each will be given nine litres a day which they can either drink or use in cooking. They must carry their cookers with them.
Dry food is a key part of the diet.
Seen by his mates as "absolutely nuts", Mr Orchard was coy when asked whether he would contemplate a return next year. But he does have the Speights Coast to Coast in his sights.
Mr Orchard's Starship efforts can be supported on fundraiseronline.co.nz/RobOrchard