Retallick-Whitelock pairing will have huge bearing on how the All Blacks perform in their next four tests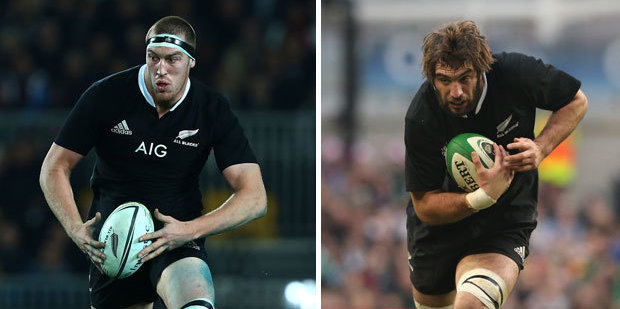 A few weeks ago Chiefs coach Dave Rennie said Brodie Retallick was the best lock in the world by some distance. He was probably right.
If Crusaders coach Todd Blackadder had said the same about Sam Whitelock, he would probably have been right, too.
What has become apparent in the past six months or so is that Whitelock and Retallick are settling into being one of the game's great combinations. They are of largely similar shape and appear to be largely similar athletes - yet they provide such different qualities they can both stake claims to being best in category.
More importantly, they provide complementary qualities and that's the value of what New Zealand has right now: a lock pairing that has all bases covered.
Retallick as a ball runner and high-impact contributor is the best lock in world rugby. In two Rugby Championship tests he's carried 15 times, made a clean linebreak, beaten two defenders and offloaded twice. Remember, this is a lock.
He's also made 22 tackles, won four turnovers, four lineouts and four kick receipts. It's hard not to have been aware of Retallick in the past 18 months as his stats have been this consistent since the start of 2013.
His workrate is incredible. He has the engine of a loose forward and the ability to play a bit like one, too, without compromising any of his core work. There isn't a lock anywhere making a bigger contribution than Retallick in terms of what he does with the ball and around the tackle area.
Australia's Sam Carter fancies himself as a similar player. He's carried the ball as many times in the past two tests, except only for 23 not 32m like Retallick. He's made only seven tackles and one off-load and conceded three penalties and two turnovers.
Whitelock's numbers have a different skew. He's second in the competition for lineout steals with two, second for lineout takes with nine and second for tackles with 27. He's carried the ball 10 times, beaten one defender and had one try assist.
His contribution around the park is good, without being quite in the same league as Retallick. His contribution at the set-piece and on defence is massive - and he ranks as one of the game's best if not the best aerial forward. He's up there among the best in terms of being able to do the nasty stuff that matters.
Retallick and Whitelock - it's a combination that could go another 10 years and it's a combination that is going to have a massive bearing on how the All Blacks perform in their next four tests.
Argentina and South Africa are entirely different rugby beasts to the Wallabies. The stats that came out of their two tests attest to the different mind-sets and strengths of both.
The Pumas are averaging 32.5 kicks from hand in the Rugby Championship and South Africa 37. That compares with the All Blacks' 13.5.
Argentina have made an average of 108 passes in a game, South Africa 77. The All Blacks have passed on average 142 times and made 372 running metres. Argentina's running metres are at 306m and South Africa's at 298m.
Argentina are averaging 4.5 turnover wins a game, South Africa five while the All Blacks are sitting on nine.
All these numbers confirm that the Boks and Pumas are lower risk rugby sides. They kick more; they play with less width and use the lineout more as a tool to set up the drive than launch backline attacks with ball swept off the top.
The next two tests will inevitably be slower. They will inevitably be more competitive at the breakdown; at the collision; at the lineout and at the scrum.
As impressive as the All Blacks' tight five were at Eden Park, they will have to go up another level again in Napier and Wellington. The Boks and Pumas won't buckle the way the Wallabies did. Both will make the contest about the fundamentals.
The Boks are likely to have Victor Matfield ready who may replace the hard-working Lodewyk de Jager. The athletic and abrasive Eben Etzebeth is playing his way back into form after a long injury and Bakkies Botha could be brought off the bench.
These three in particular will ask searching questions and if the All Blacks can find a way through the next four tests without encountering defeat, they will owe plenty to the Retallick-Whitelock combination.