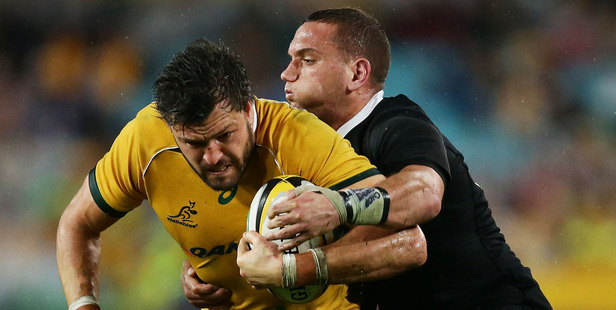 Sheer grit saved the All Blacks. A dash of aura, a Sydney shower-box and the Wallabies' inability to clinch the deal helped as well.
Stalemates deliver all sorts of unsatisfied emotions when rising anticipation is met by erratic production.
It's a rugby equation the All Blacks have felt 19 times in their history with Saturday's impasse the seventh occasion they have finished in a deadlock with the Wallabies.
That standoff continued the All Blacks' unbeaten sequence and while they dodged defeat in Sydney this was a lost opportunity to reinstate their case and remind the Wallabies about the world order of rugby.
Five of the pack returned with a get-square attitude which had been simmering for a fortnight after they tripped in the Super Rugby final. This was the stage for that group to apply an experienced blowtorch to their rookie rivals and when the rain came, it was more of an invitation.
The All Blacks had a set-piece edge but could not persuade referee Jaco Peyper to punish the Wallaby scrum. With that escape complete, the Wallabies dominated the break-downs and bent and broke the All Blacks' defensive line.
How they failed to convert that pressure in a second half onslaught said everything about their lack of precision in the conditions and the All Blacks' scramble defence and belligerence.
They gutted it out. They lasted for 20 minutes with Wyatt Crockett then Beauden Barrett in the sinbin and held on through sheer bloody mindedness.
They were out of sorts spluttering like a dodgy four-stroke lawn mower but doggedly struggling to get the job done.
Replacement Ryan Crotty and Julian Savea double-teamed Pat McCabe out at the corner, Dane Coles danced out of trouble, Savea stayed on his feet to stem another raid and Richie McCaw reeled in Israel Folau close to the line as the saves kept coming.
Two years ago the All Blacks were lacklustre in an 18-all Bledisloe Cup draw in Brisbane and were condemned by coach Steve Hansen for not preparing well enough.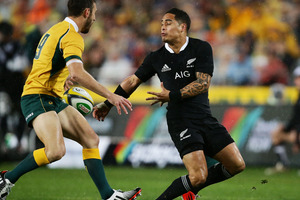 This time they gave much more. However, they were up against a Wallaby side able to bring more power to their game to raise the side's influence and force mistakes.
Crockett and Barrett infringed and were marched - several other colleagues were marginal.
Once the All Blacks were stunted up front, the pace of the Wallaby defensive line and conditions squeezed the width out of their attack.
When do you remember No8 Kieran Read being so anonymous on attack? His menace was eliminated because the ball rarely got to him past the midfield logjams. You wondered whether the game would have changed if he and others had tried to crack some space closer to the rucks but 35 per cent possession was not a great deal for the All Blacks to work with.
What-ifs don't matter now. The winning sequence has been halted and the glare of anticipation will rise even more ahead of Eden Park.
The ground has been a shrine to winning All Black rugby for two decades. It will draw a full congregation on Saturday with increasing numbers this time asking questions instead of blindly following the faith.