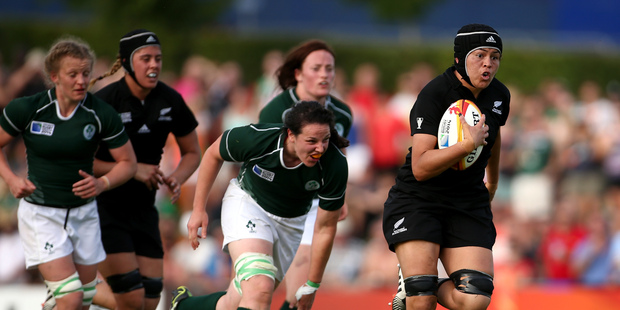 Rawinia Everitt may have to call on all the famed mental toughness of her favourite player Brad Thorn as the Blacks Ferns face the USA in a fight for their playoffs' life at the Women's Rugby World Cup in France.
The Manurewa loose forward/lock was prominent in the first two matches, and was one of the better forwards in the dramatic 17-14 loss to Ireland on Wednesday at Marcoussis.
"Obviously we're disappointed but we've had to park it," Everitt said. "Everyone has made themselves accountable. Everyone deals with losses differently, but we have each other's back."
She blamed the loss on execution and individual errors, rather than game plan flaws. That may be so, but the team will have to stiffen their set-piece.
"We've addressed issues from the set-piece, and we certainly want to try out what we've fixed there," she said.
Reviews of the USA's game show a side that will test the Black Ferns, especially in the pack.
They pushed Ireland hard, being edged 23-17 on day one.
"They are going to be a very physical team, with a heavy pack that will look to dominate us. If we stick to our game plan and hold on to the pill, we should go okay."
The backs will have to free more ball for the pacy outsides - diminutive fullback Selica Winiata has three tries to her name, equal tournament-high.
Everitt admits to being "never happy" with her work.
"I can always do something better, whether it be a big hit or a good carry to help the team."
In a nutshell, here are the permutations for the semifinals.
If, as expected, Ireland beat Kazakhstan in Pool B, the Black Ferns must beat USA and secure a bonus point to have any chance of filling the fourth qualifying position for the semifinals.
The three pool winners obtain automatic passage.
The format is exactly as for the Junior World Championship, at which the New Zealand Under 20s scraped through because another result fell their way.
But the Black Ferns are in a more solid position than were the men.
Their points differential is 71 after their 79-5 win over Kazakhstan on day one. Canada and Australia, the other probable main contenders for the last semifinal berth, are on 61 and 45.
The Black Ferns do not want Canada, on 10 competition points, to lose by less than seven to England and also score four tries. That would take Canada beyond reach. So that clash and the France-Australia test will be key to the Ferns' chances.
France-Australia will be the final one of the round, so they may have to wait to know their fate.