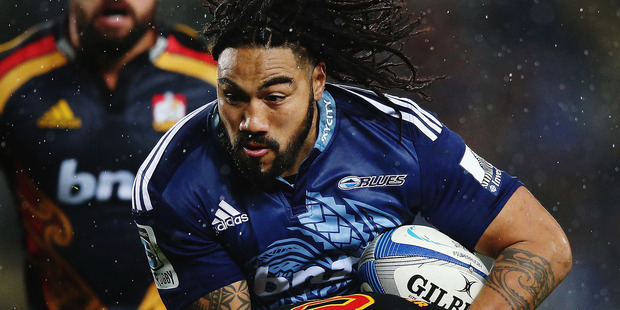 Blues 8
Chiefs 11
He arrived under a metaphoric cloud, left under a literal one and yet Ma'a Nonu was nothing but a little ray of sunshine in his second stint with the Blues.
Until, that is, the 35th minute of what was expected to be his last game, and his decision to crash into Tim Nanai-Williams with a shoulder charge.
That ill-judged tackle last night was his only blip in a season of relentless excellence.
How often this year did Nonu bash the Blues out of a hole with his direct running? How many times were his feet seen shifting one way, his dreadlocks flying the other and defenders unable to get a hand on either?
In the opening 20 minutes last night, when the Blues bristled with energy and purpose, it was Nonu who looked the most likely to break what was an impressively resilient Chiefs defensive line.
He was on hand and willing to take the ball into the traffic, as he has been all season and the Blues, on reflection this morning, may wonder why they didn't use him more.
It was a night for power running, not elusive running and while the forwards grafted inches with their pick and go, Nonu may have carved off metres if he'd been more regularly invited to blast onto short passes off Ihaia West.
He was too often left to watch the action from afar: too often left with hands on hips, wondering if the ball would ever come his way. For 35 minutes in the second half he waited. And waited - ever hopeful that the opportunity would be there for him to be the man who made the difference.
But it didn't happen for him. He barely even touched the ball which was most definitely not the story of his season. We never really saw much in the way of vintage Blues in 2014, but it was always vintage Nonu. He owed the Blues that much, and they can feel satisfied they got it. One silly tackle does not a villain make.
A largely by-standing role with a yellow card to boot - that wasn't the ending his overall efforts deserved.
Nonu's heart and soul may well belong to the Hurricanes, but at least he loaned both, in full, to the Blues for the duration of the season: it was a classic case of if you can't love the one you want, love the one you are with.