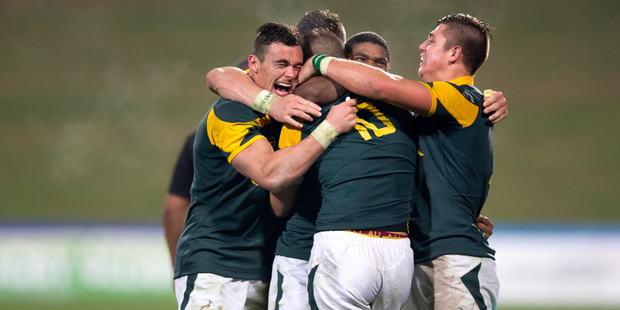 Woe betide South Africa if England decide to play to their potential for 80 minutes in Friday's Junior World Championship final at Eden Park.
England are coming off a 42-15 victory over Ireland in the semifinal in which they played about 55 minutes of quality rugby.
That was too good for the battling Irish. But the defending champions know they will not retain their title unless they are switched on for the entire game against a side which has twice beaten the hosts.
Not that England coach Nick Walshe was overly concerned. A sizzling first half took his charges to an unassailable 34-3 advantage.
"We definitely need a full 80," Walshe said. "It's not always going to go your way in every single match. This is a JWC final with huge passion and commitment and it's going to be a massive game."
England simply had too much power, pace and skill for Ireland in the first spell, making a nonsense of their 17-16 last-ditch pool win over Argentina in the Albany wet.
"We set out to keep the tempo high, play some good rugby, and dominate them in all areas. We did that," Walshe said.
"It was a really pleasing first half ... but naturally they went off a bit in the second.
"Thirty-four to three is pretty convincing. You don't count your chickens and Ireland came back at us hard in the second spell.
"But I think the guys thought they could ease off."
He felt his team had delivered better results this year compared to the 2013 JWC winners, who dropped a pool game to South Africa but then romped to a 109-0 win against USA.
"Last year we had a lot of superstars on our team, but this year we have a grounded group who work well together."