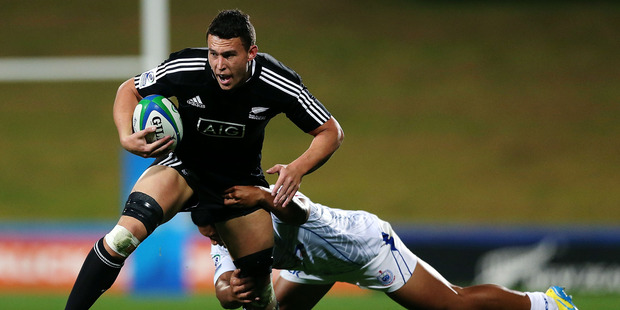 The boy from Alexandra is making good.
Blindside flanker Kyle Harris has been one of the best New Zealand forwards on display in the Junior World Championship. The 19-year-old can look back with satisfaction on two 80-minute outings against Samoa and Scotland and the last quarter against South Africa.
He scored a try against Samoa, and has thrown himself around the track while claiming lineout ball. Against Scotland on Tuesday night, he had two assists to his name, giving Tom Sanders a helpful shunt over the goal-line and setting up the play from which Mitch Jacobson scored, along with controlling ball at No2 in the lineout and doing his share of tackling.
"I'm not after any recognition for that," says the physical education student at Otago University. "You just get in there and do it."
Spoken like a true Central Otago lad. There are actually three others who hail from that part of the country: halfback Josh Renton (who now plays club rugby with Harris), and locks Josh Dickson and Troy Callander, the latter now at Bay of Plenty.
Like all his teammates, Harris is both relieved and excited to have been given a second chance in the JWC.
"We've still got our work-ons, but it's good that we've got a second shot. New Zealand teams are good at winning the next game if they've lost."
Harris has worked assiduously to make this team and loves the fact that the tournament is at home.
"My family gets to come and watch all the games. Friends can come if they've finished exams. I love playing at home. It's the best place to play footy."
Out of Dunstan High School, Harris claimed some big scalps such as Otago Boys' and Southland Boys' in his three years in the 1st XV, but none would top an upset semifinal win over top qualifiers South Africa.
That done, he can think about sneaking his favourite food - icecream - and working out how he is going to catch up on his exams, which are running now. In the meantime, he says this group has grown tighter in the three weeks together and found time to wind down.
"This is where you get mates for life, so this a good time to be in camp. We have mini-teams that go out for dinner or we go to the movies with the boys. You do get to do things. They don't tie us up."
Harris' injured skipper, Simon Hickey, has liked what he has seen from his blindside during the tournament.
"He's done well, hasn't he? He's got his hands on the ball and got himself in the game. There'll be some good competition in those loose forwards for the semifinal," said Hickey.
Harris knows what is required for the semifinal.
"We're still here to win this. We won't be looking at it as a revenge-type game. We've got the talent. We've just got to put it all together."
Kyle Harris
Born: September 23, 1994, Clyde, Central Otago.
Position: Loose forward.
Club: Kaikorai, Otago.
First XV: Dunstan High School 2010-12.