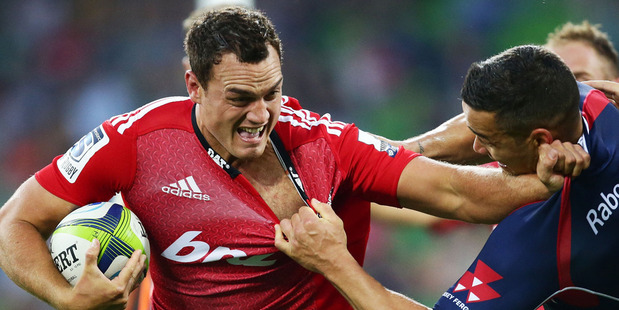 Todd Blackadder and his assistants would have been livid at the way their team was sucker-punched by the Sharks last week, lured into a kicking and territory game they had no business being in.
It undid a lot of the good work the Crusaders had done on attack in the previous weeks.
After a stuttering start to the season that was characterized by too much lateral movement with ball in hand, the Crusaders found their rhythm and were excellent against the Brumbies and Reds.
They destroyed those Australian teams with their version of the phase-attack, which I will demonstrate here. This is what they need to do to return to winning ways against the Highlanders tomorrow.
They will be helped by the return of Israel Dagg. No disrespect to Tom Taylor, but Dagg is a world-class 15, maybe even the best in the world. He reads a game brilliantly and slots himself into first receiver at the right moments.
That simple act goes to the heart of the Crusaders phase attack, which I will now explain.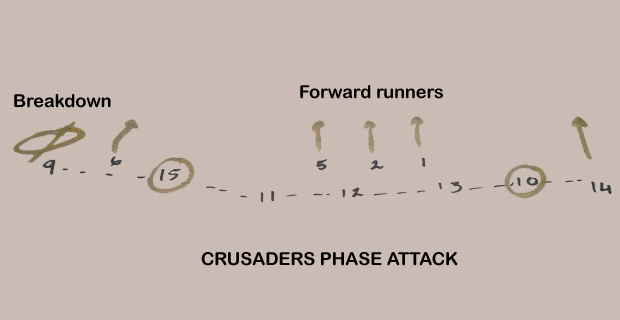 From the set-piece, the Crusaders like to take the ball to the wide channels and set up phase play, which is where they establish the pattern I have drawn up here. What they do not do is send their first- and second-fives haring across the field to get into first and second receiver again. Instead they're encouraged to hold their width and Dagg will move into first receiver.
This then gives the Crusaders three attacking options:
1. A forward punching into the narrow channel either as first receiver or off Dagg's inside ball. This is the easiest way to make the gain line and holds defenders.
2. Dagg passes directly to his forward runners. The Crusaders are extremely strong here with big, mobile forwards like Sam Whitelock, Dominic Bird and Jordan Taufua. Again, these guys are holding defenders.
3. Go deeper and wider to the backs, getting the ball to Slade in a wide position, where he can use his game-breaking passing and running skills to give space to his wings. This option has added dimension with the emergence of Nemani Nadolo as a genuine threat.
His pace and power means defenders are reluctant to start narrow and drift, because to have a chance to stop him you have to be up and in his face before he has a chance to gather pace.
Now they've established this mode of attack (Sharks game notwithstanding), they have become really difficult to defend against. Even if you know it's coming, it doesn't mean you can stop it.
Despite what is predicted to be foul, bitterly cold weather down south tomorrow, the Crusaders know they're going to be playing on a dry track.
A prediction: Malakai Fekitoa, Richard Buckman, Patrick Osborne and Ben Smith are going to have to make a lot of tackles for the Highlanders.