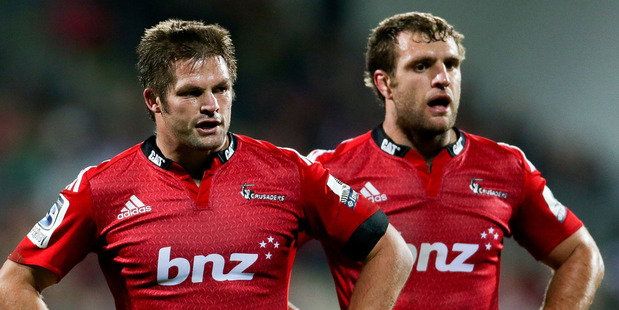 Character, courage, commitment - there was plenty of that on display at AMI Stadium on Saturday night. None of it though, from the Crusaders. For them, another "C" word best describes their effort or lack thereof - a word that All Black coach Steve Hansen would happily "flush the dunny on".
The Sharks were magnificent, but the Crusaders allowed them to be. There can be no excuses for losing to a side with just 14 men for more than three quarters of the match. For a 10 minute stretch in the final quarter it was just 13 men.
Little surprise then that the players appeared somewhat sheepish and embarrassed after the final whistle. Sharks coach Jake White spoke of Jean Deysel's shame and embarrassment at being red carded in the 17th minute. He certainly wasn't the only one in the changing rooms carrying those emotions.
Loyal fans will forgive a lot. The odd off day, a scrappy win - even the occasional loss against a well drilled opposition.
What they won't forgive is when they leave the venue feeling shortchanged by their team, and based on the numerous conversations I've endured since Saturday night, that seems to be the prevailing feeling. Deysel's dismissal seemed to give a sub-conscious signal to the Crusaders - "sit back boys - it's all going to take care of itself".
The most damning criticism is that the Crusaders rock stars had their minds on the All Blacks training camp starting the next day in Christchurch. There'll be more denials than Lance Armstrong, but you can't escape the fact that after stellar displays in recent times, the likes of Richie McCaw and Sam Whitelock didn't have their usual impact. After possibly his best display in Super Rugby a week earlier, Luke Whitelock also took a step back. Perhaps it's a little unfair to highlight just those three players.
Highlanders coach Jamie Joseph must be a reasonably happy man. The All Blacks camp has had a minimal impact on his squad as they prepare for saturday night's "battle at the Barr".
They're finally on the cusp of making the playoffs. Inevitably after every match, one coach is going to be feeling a little down on his luck. After 20 years of interviewing Crusaders coach Todd Blackadder, I don't think I've ever seen him more disappointed on the back of a game.
Are there any positives?
Well they can draw on their great form leading into Saturday night. They can also draw on the negative emotions of the Sharks loss. Blackadder was straight to the point. "This needs to be anomaly. That's our challenge - to show that it was".
Perhaps, just maybe, Kieran Read will make his return from concussion.
Longer term though, the question is: will the fans make their return? A bounce-back will over the Highlanders at the weekend will go a long way to restoring some faith for the following weekend's home clash against the Force.