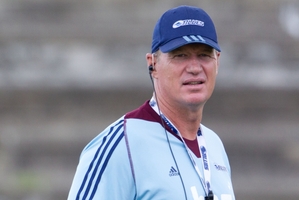 My admiration for John Kirwan remains.
His rise from butcher boy to All Black demigod was the stuff of legend, as were his battles with depression and his public campaigns to help others with a similar affliction.
He is quirky and spirited, generous with his time and open to ideas. There is a generous freshness about Kirwan, which some of the Herald staff discovered when he came in to edit the paper this year.
JK exudes passion. There is a raw enthusiasm about his style and a lively edge to some of his ideas about fashion, food and family.
All those components hold my respect and have done through all sorts of episodes since our paths first intersected in the 80s.
However, life has a number of compartments and at the moment, that admiration does not spread to the footy JK and the Blues are bringing to the Super Rugby landscape.
Results have been poor, production has been erratic, the Benji Marshall concept was strange from its inception and the team's style is exasperating.
It makes you want to shout at the telly or, if security allowed, get on to the field and plonk the ball down in a Blues huddle like Alex Wyllie memorably did as Canterbury were getting pasted in a Shield defence against Auckland, and urge the Blues to hang on to the pill and express themselves.
The Blues have struggled in lineouts, scrums remain a game of Cluedo and they hoof the ball away like it has some sort of disease.
JK wants the Blues to embody the vibrant buzz he gets from the City of Sails, so he should give his side carte blanche against the Waratahs because the other ideas have not worked.
He's not coaching to retain his job next year - the NZRU has already approved that extension - but he is in charge of a side which needs to plug into the city's blood supply. Win or lose we need to see that passion and feel the fury.
Perhaps it will change today and the Blues will show some appropriate Anzac fight that will stir us towards the gusto, which was brim-full at the start of the season.