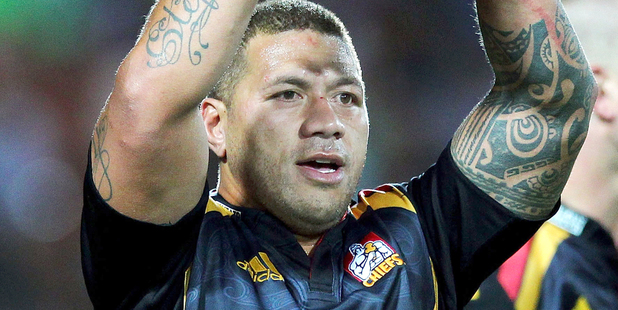 Hookers are usually a gnarly benchmark for Super Rugby sides.
Some of the younger brigade have not collected the creased faces or disfigured ears which often signify combat in the scrummaging trenches and close-quarter combat.
They may fancy they can dance a wider track too in ball-carrying raids on lighter backs. However, coaches everywhere are looking for men who can perform their core duties first.
It may be unglamorous work but without accurate lineout throwing, hearty scrums and metre-seeking drives, Super 15 teams suffer.
The Chiefs' Mahonri Schwalger and Stephen Moore at the Brumbies are hookers who have seen it all in their careers and are still finding new levels of performance.
There has been some rust in the Chiefs' setpiece performance this season and knee and eye injuries have taken Schwalger out of a number of contests.
However, the 35-year-old has been reinstated for tomorrow's match in Canberra where the Chiefs will be the latest side to try to counter the Brumbies' game plan which is based on kicking and territory.
They rely on their accuracy at the lineout, scrum, ruck and maul to give them the platforms for a troop of kickers to move them deep into opposition territory.
Fullback Jesse Mogg kicks vast distances with his left peg, Nick White equally off his right foot while Matt Toomua and Christian Lealiifano bring a greater variety with their kicking. Moore has played 91 tests and seen action in more than 120 Super rugby matches, where his lineout throwing and bustling play leads the Brumbies' energy.
The Brumbies have the best lineout numbers in the series — they win 94 per cent of their throws where captain Ben Mowen is often a target — while the Chiefs are the worst with 74 per cent success.
They have not got into a decent routine and have struggled when they use targets other than the remarkable Brodie Retallick.
Schwalger does not have the international clout of his rival but he has played 42 tests for Samoa, captained them through their last World Cup campaign and has played for a variety of teams round the globe.
He brings the flinty edge the Chiefs need as a foundation for plans to build on their spirit and commitment to reverse their recent run of results.
Both sides lead their conference although the Chiefs have not been able to find as much sting since Aaron Cruden was injured. Their coaches will have been planning on ways to use the possession the Brumbies will kick their way.