Six Nations-winning coach reaps the plaudits, but looks at the New Zealand system with envy, reports Wynne Gray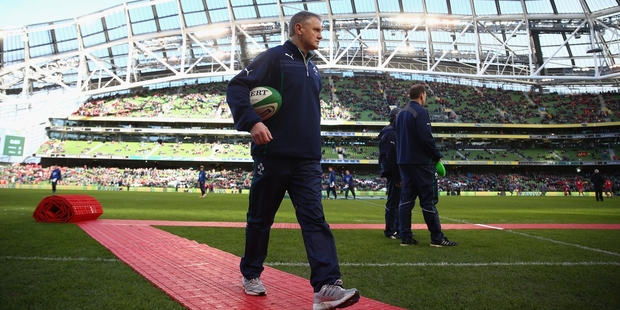 Amid the euphoria of winning the Six Nations, Ireland coach Joe Schmidt felt frustrated.
Long after Ireland squeezed past France in a nerve-jangling duel in Paris, many of their supporters celebrated until their gills resembled the colour of the national jersey. Jubilation embraced the nation as Schmidt, his coaching group and the squad received tumultuous plaudits.
Expressions of gratitude were lumped on the squad, yet in the aftermath Schmidt felt an exasperation he had not experienced before. It was rammed home when he received a parcel in the post containing a team jersey and a supporter's request for autographs.
"I couldn't do anything about it because I'm not going to get my hands on the team again until June," he told the Herald.
"The windows in this international coaching are brief and I haven't adjusted to that yet. The Six Nations is a succession of finals, there is no room to experiment and no chance to give players an opportunity to run out unless someone is injured or not performing.
"It is a really challenging learning curve and I don't think I am too far along it yet."
Schmidt got to work with Ireland for a month in November then seven weeks during the Six Nations championship and that's it until June when he takes the side to Argentina.
It's a timeframe Schmidt says does not allow him and his staff can't get too intricate with their ideas; they don't have time to dismantle everything and rebuild.
There is an upside on the family front though where Schmidt can spend more time with his son Luke, who suffers from epilepsy and has undergone a number of operations and treatments.
Schmidt envies the All Blacks arrangement where the coaches and selectors tour the Super 15 squads to get feedback about players and styles, offer their thoughts on trends in the game and how they can all benefit from each other.
"Having the Super 15 and the top three nations of All Blacks, Springboks and Wallabies in regular competition helps them all stay at the cutting edge," Schmidt said. "And Shag [Steve Hansen] has been doing this for 10 years with the All Blacks and has all that continuity to fall back on."
The 48-year-old Schmidt was in that setting from 2005-7 with the Blues, initially as an assistant with David Nucifora to coach Peter Sloane, then as backup with Liam Barry when Nucifora graduated to coach. The pair are now reunited in Ireland with Nucifora taking up a job this week as high-performance coaching director.
When Schmidt left New Zealand in 2008, he and his family went to Clermont in France before he switched to Leinster and was then promoted to Ireland head coach late last year.
The IRFU made an offer the former Manawatu wing had to accept. His Leinster club allowed him to move on in an arrangement he says was very orderly.
He is contracted through next year's World Cup then the Six Nations in 2016 and has no plans beyond that.
Schmidt had rolled over his contract with Leinster into its fourth season when the IRFU inquired about his interest in succeeding Declan Kidney. The family had planned on finishing their work in Ireland when Luke finished his secondary schooling and his daughter had reached the equivalent of NCEA Level 1. That seemed a good time to return to New Zealand but that departure is now on hold.
"As a family, once we make a decision, we decide that is the right decision no matter what happens and we just forge ahead," Schmidt says.
Last November, as Schmidt took out his pointer and video screen for the first time with Ireland he never imagined the tumult that month would bring. The side beat Samoa in their first outing and then was well beaten by the Wallabies.
There was more chance of Willie John McBride and Mike Gibson making a guest appearance than Ireland halting the All Blacks' unbeaten 2014 sequence.
So it came to pass. The All Blacks won but needed every scrap of late good fortune and skill to nobble the men in green 24-22.
"I thought they were slightly off colour and we had a really good performance," Schmidt says. "I felt we were always a chance. There are differences, for sure, between the top eight teams in the world, but some of those differences are not as big as they are perceived to be. The performance margins are reasonably narrow.
"Even from week to week you could see that. When Ireland toured New Zealand last, they were comfortably beaten in the first test, unlucky to lose the second to a Dan Carter dropped goal when they had a pretty good scrum at the other end and got penalised and probably felt a little aggrieved. Then they came to Hamilton, the All Blacks were missing a few players and ripped the heart out of them. That is the nature of it, even in the World Cup.
"The All Blacks comfortably account for France in the pool play and then they come to the final and they were hanging in by the skin of their teeth."
Schmidt does not recall what Ireland's game plan was last November in Dublin, or at least he does not want to mention it. His side had a number of ideas about mixing the game up and they had an emphasis on defence. They also knew they had to meet the All Blacks set-piece because if they got an ascendancy there, their confidence lifted. If they got enough ball Ireland backed their attack, especially if the All Blacks were a shade off their game.
The visitors got a boost from their reserves and that reinforced to Schmidt the need to find and build a strong 30-man group who could all contribute to international intensity. That quality was underlined when the Franks brothers came on with Dane Coles, Liam Messam, Ryan Crotty and others.
"I thought that Beauden Barrett was unbelievably good for them and it emphasised to us we have to grow a broader base of players who are capable in that white-hot intensity, when you are playing some of the best teams in the world."
Schmidt did not dare to dream of history in the final stages, he was busy plotting, collating information, filing ideas and trying to stay in the moment. He watched with increasing attention as he tried to predict what Ireland could do next.
He felt his side played incredibly well in the late stages with the chance of going to an eight-point lead when they won a penalty 10m out and on the 15m line with Jonny Sexton, one of the best kickers in Ireland, still on the field.
"It was at that stage that I thought, maybe if we can control the kickoff and the next three or four minutes, we can get this game. He didn't kick it but even with 23 seconds to go when we got penalised, there was the potential for something to happen.
"We had defended so well during the game and it was massively disappointing to concede the game but there were some key guys for the All Blacks who did really well - Barrett and Messam carried really strongly and Coles got a great ball away to Crotty."
That recollection is probably just as sharp for all those Irish supporters who were at Aviva Stadium for the test, who reached out to touch history before it was ripped from their grasp by a world-class setup.
Once that disappointment eased, the Six Nations' response from Ireland was rousing and a relief to the coaches.
"It is a pressure-cooker event, a tournament with an unbelievable amount of coverage and following. It is exciting to be involved in and reasonably taxing," he said.
Victory coincided with Brian O'Driscoll's international farewell, though Schmidt is keen to tap into the experienced centre's knowledge to help on future campaigns. Settling on his replacement is not straightforward. There are options including former Blues back Jared Payne and Darren Cave who are at Ulster, Luke Fitzgerald or Robbie Henshaw at Connacht.
Those decisions will unfold when Ireland play two tests in Argentina in June. It looms as more than a scrummaging inquisition. The Pumas had a number of backs playing in Europe like Juan Imhoff, Hoarcio Aguilla and Juan Martin Hernandez who were gifted attackers while Juan Martin Fernandez Lobbe was a magnificent leader and loose forward. "I think they have got a lot more scope than just playing in and around the scrum and maul." Schmidt said.
Once that tour is done, Schmidt will fly through Auckland to catch the last round of the international under 20 tournament, have a few weeks catching up on business and friends before heading to Europe for a family holiday.
He will be especially interested to see how the All Blacks handle England in June. They were a young team, on the up and many of their quality players were younger men in the squad.
Owen Farrell kicked at 83 per cent during the Six Nations, Mako and Billy Vunipola were powerful ball-carriers and in the second row Courtney Laws and Joe Launchbury were a couple of names to keep check of. Captain Chris Robshaw was a great defender and had a massive workrate while Danny Care was a sharp halfback.
Out the back they had "two massive weapons" in Manu Tuilagi, who was as difficult to handle as anyone in the game, and fullback Mike Brown, the Six Nations player of the tournament.
"He created a number of tries against all the opposition and defended superbly. Getting Dan Cole back is a bit of an issue for them at tighthead but Dave Wilson is pretty competent. Dylan Hartley and Alex Corbisiero are very good in the front row."
Coach Stuart Lancaster had settled into test coaching after a few seasons and was probably more comfortable than Schmidt was about balancing his workload.
Schmidt had been through the wringer once when the Blues struggled to find consistent success. One of the downsides about having such a high-profile rugby coaching job was the impact on his family.
"You talk to other coaches who have struggled to get success and that can be very unsettling on their families because they are all exposed to what may be said through their mates at school and those who aren't their mates.
"I have learned a bit about safeguarding against that but there is no answer when things don't go so well. But you are doing something that is incredibly challenging, that is exciting and I feel you get to live on the edge. With that privilege comes the pressure, I suppose."
He would love to improve Ireland's record at the World Cup. He was not a great goal-setter but conceded he had peeked into the distance towards the end of next year.
"If you are looking at the big step further on there are a whole lot of little steps you can trip over," he said, "so I try and negotiate my work with a bit of thought to the future and also the short-term. It would be great to get to a semifinal of a World Cup because Ireland have never achieved that.
"It is 17 months away. I have given it some thought - but so will Kieran Crowley and he and Canada will want to undo us in game one."