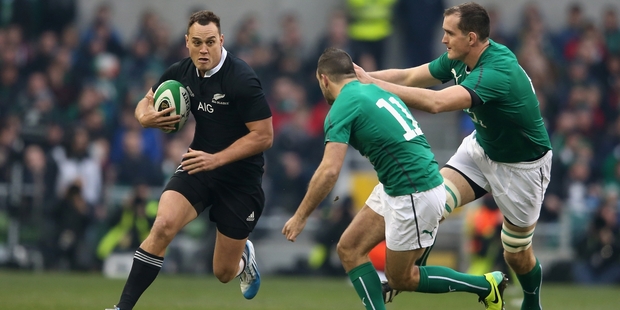 It wouldn't be a surprise if there are some high profile Super Rugby transfers at the end of this year - big-name All Blacks deciding they need to switch franchise having lost faith in their coaching regimes.
It is a curious phenomenon but the country's best players have strangely become the biggest management headache in Super Rugby. Every year since 2011 there have been a handful of regular All Blacks who have struggled to find form in the first two months of the season.
It's a frustrating business for Super Rugby coaches to see a player such as Israel Dagg perform at about half his capacity. Just as frustrating is the form of Cory Jane, TJ Perenara and Julian Savea. The Crusaders and Hurricanes are battling to find their rhythm and aren't getting much out of the players they need to be getting most out of. Todd Blackadder has tried dropping Dagg and playing him on the wing to jolt him into life.
This is not the first time he's resorted to extreme measures in relation to Dagg.
The same problem surfaced last year and Blackadder lost patience and put Dagg on the bench midway through the campaign.
Mark Hammett has dropped Jane and Perenara with the same intention this year and Savea can probably count himself lucky he's not yet suffered the same fate. It's a coach's perogative to protect the performance of his team and manage his players as he sees fit.
But there is also a reality that has to be acknowledged; the current generation of players have different expectations and aren't necessarily believers in what they perceive to be 'old school coaching methods'.
Being dropped doesn't lead to a process of introspection and self-assessment the way it might have 10 years ago. These days, players tend to wonder more about the coach than themselves when they are dropped. That's especially true of quality All Blacks who are forced to sit on the bench for their Super Rugby side.
There's an argument that the players are a little precious. Maybe they are but that's Generation Y. That's the system they have come through, from a collaborative education system to inclusive team environments. These places tend to be criticism-free, cuddlier and softer than the world endured by Generation X.
Expecting them to react well to being dropped makes as much sense as expecting fish to walk if they are dumped on the shore. The carrot has become a more powerful tool than the stick; backing Dagg to the hilt might prove a more productive management line to tread. Ditto with Jane and Perenara.
The All Blacks have shown how to best deal with Super Rugby underperformers in the past few years. The likes of Ma'a Nonu, Andrew Hore, Tony Woodcock, Aaron Smith and Dagg have been well below their best in Super Rugby, only to burst into form with the national side.
Positive reinforcement is the key. The All Blacks pick them - which is a major boost to confidence in itself - and then wrap a big metaphorical arm around them, tell them they are quality players and will be given an opportunity to prove it.
It's pretty much that simple and mostly it achieves the objective of restoring form and confidence.
It is not unreasonable for established All Blacks to feel they have earned the right to expect patience and support from their Super Rugby coaches.
It's not a misguided culture of entitlement by any means for senior All Blacks to expect a starting spot and an element of leniency in terms of retaining it.
The danger now for the Crusaders and Hurricanes is that some of their players might havedoubts about how they are going to be treated and they won't be without alternatives to play elsewhere.