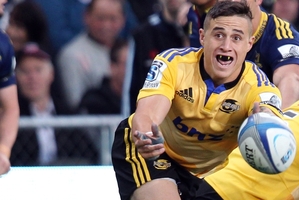 Despite the Southern Hemisphere's urgency and pressing need for outcome on the proposal to shift the June test window to July, a decision remains some way off.
There were more talks on this now vexed subject in Dublin last week: more meetings, more trawling over the same old ground and no real progress. There was no surprise at the lack of progress either. Those who have been in Southern Hemisphere rugby administration for long enough have learned how to manage their expectations when they deal with the north.
Over the years, there have been various attempts to create a global season, all of which have failed on the basis they have been deemed too hard. Last year, a new, smaller scale proposal surfaced - to shift the Southern Hemisphere's in-bound tour programme from June to July. That was seen as having significant impact in improving player welfare and raising the value of test rugby.
It was hoped that agreement to make the switch would come relatively quickly but there is no chance of a decision being made until later this year and even then, there's a fair chance it will be delayed again, or a new compromise, nonsense proposal aired as an alternative. Quite why it needs to be like this is an enduring mystery. It's not entirely clear who is holding this up or what the stumbling block is.
Sanzar's current Super Rugby restructuring proposals cater for the status quo and the July shift. They will present broadcasters with new competition structures for both scenarios. They are, however, in favour of building a new Super Rugby competition that doesn't have a three-week break for test matches. If tests can be played in July, it means Super Rugby from 2016 can be played in one continuous block.
The current competition, with its pause for the June window, has been a disaster not welcomed by players, fans or sponsors. It's been daft putting Super Rugby in cold storage a few weeks out from the play-offs.
For the fans, there has at least been test rugby to fill the void but for the majority of the players - those not involved with the All Blacks - the hiatus has left them with meaningless games to occupy their time. Some teams played so-called friendlies during the break and regretted it - like the Hurricanes' decision to play the Reds in 2012 which saw TJ Perenara break his leg, and in truth, never fully recover.
It's a no-brainer for Sanzar to push for July and supposedly they have support from the Rugby Football Union and the professional English clubs, who can also see merit in changing. For England, the shift would mean they could finish their domestic championship with a little room to spare before heading south to play tests. This year, England may be under-strength for the first test on June 9 because of the timing of their club final. That same benefit would apply to Wales, Scotland, Ireland and Italy, whose clubs are involved in the RaboDirect Pro12.
The French Top 14 also has perennial issues with the late finish of its club final but it is understood it is these five nations who have expressed caution about making the shift. There have been suggestions that their concerns are in relation to potential commercial impediments; there are sponsorship and broadcast deals locked in to schedules and can't necessarily be shifted without penalty.
There is also uncertainty in European rugby about the future structure of cross-border and in some cases, domestic, competitions. Sanzar are hopeful that, when there is clarity, those European nations preaching caution may be more inclined to commit.
There will be more formal talks in May but there is not likely to be a formal IRB vote until November.