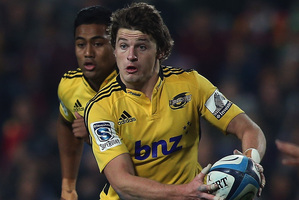 No team has won a Super Rugby title without a test-class first-five: Carlos Spencer, Andrew Mehrtens, Stephen Larkham, Daniel Carter, Morne Steyn, Quade Cooper and Aaron Cruden are the title-winning 10s. Gregor Paul assesses the current crop of New Zealand hopefuls.
Aaron Cruden
The Chiefs selectors are keen on the Moneyball theory, using deep analysis of performance statistics to gain a true sense of what a player does. Going through that process with Aaron Cruden, the numbers from last year's Super Rugby competition tell them this: the component parts of his game - ball carries, defenders beaten and offloading- are similar to those of New Zealand's other two leading first-fives, Daniel Carter and Beauden Barrett.
Carter was the best defender of the three - he made 88 per cent of his tackles and averaged almost 10 a game. That compared with Cruden who averaged five and had a success rate of 78 per cent and Barrett who also averaged five and made 75 per cent.
Carter was the best goal-kicker, averaging 86 per cent, compared with Barrett at 74 per cent and Cruden at 69 per cent. Where Cruden diverged was in the number of times he kicked in a game; his average kicks in play last year was six, compared with Barrett's 10 and Carter's seven. He also passed less than the other two - his average was 14, Barrett's 28 and Carter's 26.
So the numbers tell coach Dave Rennie that the real value of Cruden is the potency of his running game and the quality of his decision making and execution. He averaged almost one clean line-break a game last year - which compared with Barrett's 0.3 and Carter's 0.6. Once he finds the hole, he's expert at making sure the Chiefs capitalise.
The spreadsheet isn't so much the essence of Cruden, it merely confirms what the naked eye thinks it can deduce for itself - that the Chiefs have an impish playmaker who more often than not does the right thing with the ball. The mix he offers is just right; he can skip past defenders, drift out to second or third receiver, play for territory if needs be, offload out of heavy traffic and balance risk against reward.
Cruden is calm, mature, composed and aware of opportunity. He doesn't win the accolades he deserves for his game management and understanding of space, and there is perhaps one statistic, above all, that best explains why the Chiefs have won back-to-back titles. Cruden has worn the No 10 jersey in all 36 games under coach Dave Rennie.
Last year, Cruden was on the field for a total of 1414 minutes - that's an average of 78-and-a-half minutes per match. There were only 26 minutes last year when Cruden wasn't on the field directing a Chiefs side which averaged three tries and 28 points a game, the most potent attack in the competition.
Colin Slade
In 2010, Colin Slade made the decision to leave the Crusaders where he'd impressed hugely with his speed, vision, aerial skills, versatility and kicking. But he'd made that impression mostly as a wing or fullback, unable to regularly get his hands on the coveted No 10 jersey.
His shift to the Highlanders was brave in that it showed his commitment to play at first-five and win national recognition. Sadly, due to the most horrific run of injuries which included two broken jaws and a badly broken leg, the wider public are none the wiser as to the true extent of his ability in the position.
So, four years after leaving, he's back in Christchurch with everything still to prove. He convinces on some levels: his component skills are good, he's got a long kicking game off both feet, can break the line, has enough speed to play on the wing and his defensive work is robust.
The unknown is his ability to direct and control the tactical direction of the Crusaders each week. Does he have the mentality to lead the team, stay clear-headed and confident when he's under pressure?
He's shown character and mental strength to bounce back from his various injuries but the pressure he faces in 2014 is different. The Crusaders have thrown Slade the jersey and asked him to deliver a title. It's a daunting task and perhaps just beyond him.
Beauden Barrett
The best compliment that can be paid Barrett is that had he opted to join the Blues this year, they'd be serious title contenders. Barrett is a championship-class No 10. If the Blues had doubled their offer to him, it wouldn't have been a ridiculous move. There is range and substance to his game. His core skills come out in line with Cruden and Carter.
He's that bit bigger, more powerful and seemingly more explosive, which allows him to make devastating line-breaks, proved several times last year when playing for the All Blacks.
What he does particularly well at Super Rugby is choose his times well. His pass and kick numbers are high, so he has an element of surprise when he backs himself to take on the defence.
His only problem is that the Hurricanes don't look a championship team. Barrett's influence will be blunted somewhat by being part of a side that doesn't convince as potential champions.
Benji Marshall
Probably not in 2014. Maybe not in 2015 either, but 2016? Possibly. There's so much to be excited by. Marshall is the closest thing Super Rugby has had to Carlos Spencer since the former Blues No 10 shifted north in 2005.
Instinctive, creative and naturally brilliant, Marshall has a portfolio of tricks beyond most of his peers. He can kick, run and pass, and despite a poor reputation, he can tackle as well. So he's got the goods. What he doesn't have, comparatively, is the first clue of what he is doing.
Switching codes is tough enough. Coming into rugby as a first-five is exceptionally difficult. Iestyn Harris of Wales tried it a decade ago and it nearly broke him mentally.
Eden Park regulars will read about Marshall's supposed salary and demand to see an obvious and immediate return. It won't work like that, though. What matters is that, each time Marshall plays, he shows an increased understanding of his new code. Each time he plays, he'll need to be better than the last. If so, by July, the Blues will be well-placed to be a contender in 2015.
Lima Sopoaga
Lima Sopoaga played 171 minutes for the Highlanders last year and kicked the ball just 11 times. He is, without doubt, a runner; one with some ability, as in his seven appearances, he made 110 metres and three try assists.
Good, but not great numbers . . . but he was playing for the team that finished 14th and more often than not were well and truly beaten by the time Sopoaga came off the bench.
He needs to add structure to his game to be taken more seriously: his goal kicking can improve, his tactical direction could be stronger and his willingness to mix his options needs to be more apparent.
The Back-ups
Blues
Two solid but unspectacular operators in Chris Noakes and Baden Kerr, neither of whom would qualify as potential title winning 10s. Kerr has ability and mental strength and may develop into something more headline-grabbing.
Chiefs
Many versatile operators who could play at 10 if required. Gareth Anscombe is the most experienced alternative 10 and he was, not so long ago, touted as the future of the Blues. Andrew Horrell is gifted but his lack of exposure to the role would be a concern - the same goes for Tom Marshall and Tim Nanai-Williams.
Hurricanes
Marty Banks - the star of last year's ITM Cup - has been picked up with a view to using him more as a fullback who can cover 10. Inexperienced and unorthodox, the Tasman player is a good investment but it would be a stretch for him to guide the Hurricanes in his rookie Super Rugby season.
Crusaders
In Tom Taylor, they have easily the best back-up in the competition. Taylor is a better No 10 than Slade - the All Blacks certainly think so-but is likely to be used at 12 because of a lack of alternatives. Even when Taylor plays at 12, he'll no doubt spend ample time at first receiver, while he'll also be the first choice goal kicker.
Highlanders
Willie Ripia has yet to prove he can handle the next level; he has talent but he'll be on the cusp of his comfort level playing in Super Rugby.
- Statistics from Opta.