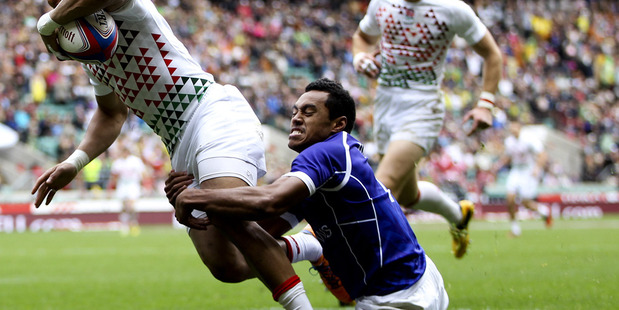 Victor Vito, Liam Messam, William Ryder - a number of players have made a name for themselves in Wellington with some superb displays. Matiu Workman profiles seven players who could do the same at this year's tournament.
7. John Moonlight - Canada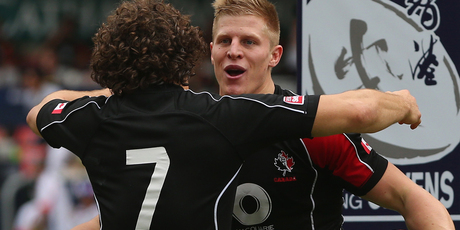 Moonlight won't have the captaincy when Canada play in Wellington, but don't expect that to change his influence within a team that is growing in confidence. The 26-year-old orchestrated a stunning effort in Las Vegas to propel the Canadians to third, the country's best-ever result in a Sevens World Series event.
Playing without injured duo Nathan Hirayama and Sean Duke, it was an achievement in itself that the North Americans reached their first semi-final in 14 years before they were defeated 26-7 by New Zealand. Moonlight's speed and vision were key elements but it was his experience that was needed the most when Canada trailed 12-0 at halftime against Samoa in the third place playoff.
Moonlight, Nanyak Dala and the impressive Phil Mack combined superbly to give Canada its best result in 108 tournaments. A gritty player, Moonlight's instincts make him a player the purists watching on will respect.
6. Samisoni Viriviri - Fiji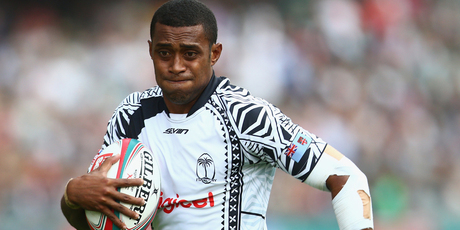 If form is any indicator heading into the Wellington Sevens, expect to hear the name Samisoni Viriviri throughout the tournament. The Fijian speedster already has 20 tries from four events on the world series to date as Fiji lies 21 points adrift of New Zealand in third.
Viriviri had a quiet spell in the Las Vegas Series by his standards with three tries, but his try-scoring pedigree has already been significant for the rebuilding Fijians.
The joint-top tryscorer of the 2012-13 series, Viriviri has a knack of scoring tries when his country needs them. He was the leading tryscorer and player of the tournament at the Dubai Sevens, where Fiji won its first title since the appointment of former England coach Ben Ryan in September. Viriviri was also named best and fairest player at the 2013 Hong Kong Sevens, where Fiji won the title for the third time in five years.
5. Carlin Isles - USA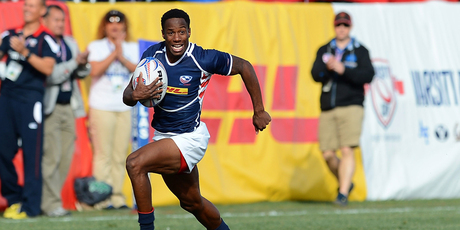 The man billed as 'rugby's fastest player' is always worth a mention regarding players to watch, just be sure not to blink too often when he has the ball in hand.
Isles' story should be familiar to Wellington Sevens fans. A former track star with bundles of talent and a 10.13 second personal best in the 100m sprint, Isles' progress has been slow but steady as the US Eagles learn to base their game around his near-freakish talents. His defensive improvements have been just as impressive. In their 19-12 loss to Argentina, Isles scragged down an Argentine player, ripped the ball clear, passed inside to a teammate before running 70 metres to score a try that levelled the match at 12-12.
There was speculation Isles would quit rugby following the Las Vegas tournament and instead switch to American Football, where he has signed a practice contract with the Detroit Lions. Instead Isles confirmed on his Twitter page that he was travelling to Wellington and playing to the relief and delight of fans, the Eagles and Sevens rugby officials.
4. Tomasi Cama - New Zealand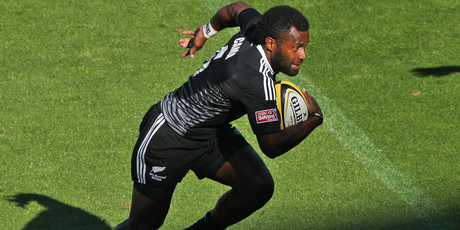 For every young apprentice Sir Gordon Tietjens discovers, there needs to be a master. Tomasi Cama's incredible statistics provide the first look into how effective he is as a player. Cama sits second overall for points scored in the Sevens World Series with a staggering 1929, second only to Ben Gollings' monster 2652 points.
Among Cama's statistical accomplishments include 145 tries, enough to see him sit seventh on the all-time tryscorers list. Only two active players, Kenya's Collins Injera (171) and Englishman Dan Norton (147), sit above him on the ladder.
What seperates Cama aside from his longevity is his ability to read the game and a superb goal-kicker, as his 627 conversions illustrate.
At 33, time may not be on his side, but his ability to create match-winning opportunities from next to nothing have seen him described as one of the greatest Sevens players of his generation. While future stars such as Akira Ioane and Ben Lam look to give their Sevens careers a boost, they will have the very best on-field conductor in Cama guiding them along the way in his 59th Sevens World Series tournament.
3. Tulolo Tulolo - Samoa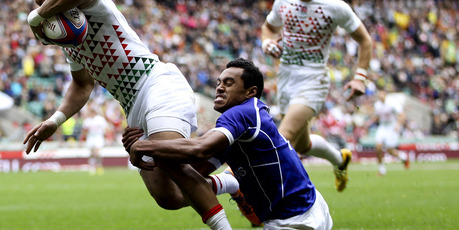 Tulolo Tulolo has been a shining light for Samoa so far in the 2013-14 Sevens World Series, with his deft footwork causing havoc among opposing defenders. His sidestep, in particular, left Las Vegas quarter-final opponents Australia dead in their tracks as Samoa squeaked through with a 12-10 win before bowing out 14-0 to South Africa in the semi-final.
While on hand to assist in many of his side's tries so far this season, Tulolo's team-leading 11 tries illustrate his ability to finish moves with the flair that has become synonymous with rugby in the Pacific Islands. His dynamic partnership with 20-year-old Fomai Ahki will be of particular interest to rugby fans, with the latter in superb touch during the bronze medal match with Canada in Las Vegas.
Nevertheless, expect plenty of x-factor from Tulolo as Samoa look to secure their first Wellington Sevens title in seven years.
2. Werner Kok - South Africa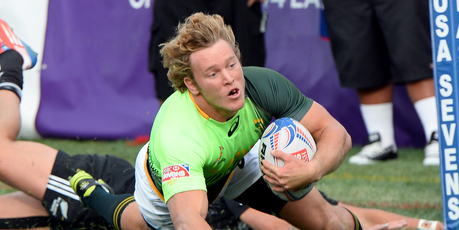 Werner Kok announced himself to the Sevens world with the match-winning try against New Zealand in the final of the Las Vegas Sevens in January. It capped a quick rise for the 21-year-old from Nelspruit, who played in his first tournament at the season-ending London Sevens in May 2013. He was selected for this season's Dubai Sevens and scored his first try in South Africa's 34-5 win over Russia.
From there, the impact player has gone on to score a total of 10 tries in three tournaments this season to highlight his ability to finish set pieces with a level head.
Not known for being flashy, Kok instead relies on pace and physicality to score tries. Like many Sevens players, he has an effective fend that was used to good effect in Las Vegas.
While Cecil Afrika is likely to lead South Africa's charge for a fourth consecutive final, expect to see Kok making an impact from the bench in Wellington.
1. Dan Norton - England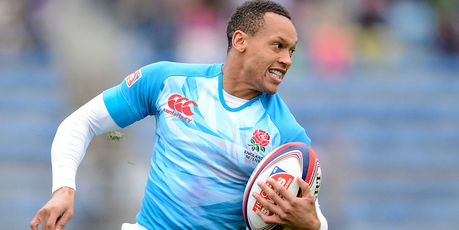 English magician Dan Norton leaves opposing teams and Sevens fans wondering what he's going to do next. Norton made his debut in Wellington five years ago, when England defeated New Zealand 19-17 in the 2009 final.
While he was the understudy to the remarkable Ben Gollings, Norton has since racked up a number of records in his homeland since his Wellington debut. His 52 tries last season was an England record, while his seven tries in the 2013-14 series has consolidated his spot as England's second-highest tryscorer with 147 five-pointers.
Playing in his 39th tournament, Norton is the focal point of England's attack. While Tom Mitchell and Jeff Williams have provided England with more speed and other tryscoring options, Norton's creativity sees him as the team's go-to man when it is in need of something special.