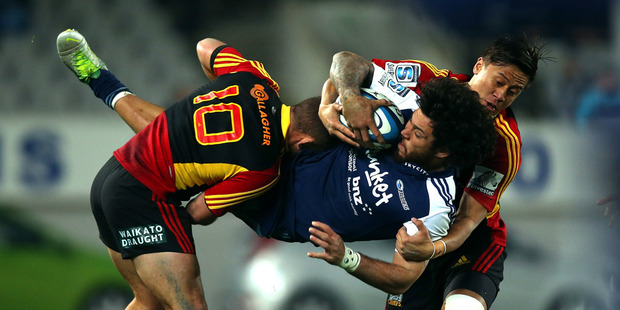 Gregor Paul from the Herald on Sunday lists 15 things we have learned from this year's Super Rugby competition.
1. Chief among sides
The Chiefs are the new standard-setters in New Zealand. They are building something that may in time become as enduring and as impressive as the legacy the Crusaders have constructed.
What they have done this year is prove that they were not overly reliant on Sonny Bill Williams, that they have a team ethos, a game-plan, an ability to stick to that game-plan and the right personnel and coaching staff to achieve their goals.
The tendency in New Zealand is to look to the Crusaders at this stage of the season and expect them to be the driving force, to be the team that stays composed, assured and accurate under pressure.
Maybe now the time has come to believe in the Chiefs, to see them as the team with the structures, the character and the ethos to emerge triumphant as a default mechanism.
Maybe we should stop being surprised when leading players choose to sign with the Chiefs. Maybe we should stop, as most of us no doubt are, believing that the Crusaders will win in Hamilton next week should these two clash in the semifinal.
2. We can be awfully quick to judge
Wasn't that long ago that quills were being sharpened to write Todd Blackadder's Crusaders coaching obit, while we also prepared to lift John Kirwan from a knighthood to sainthood.
As it turned out, the Crusaders made the playoffs for an extraordinary 12th year in succession - a run of success that doesn't get the kudos it warrants - and the Blues flopped into mid-table mediocrity courtesy of a six-game skid.
3. Big names don't equal big wins
The Highlanders had Big Brad Thorn, Big Tony Woodcock, Big Ma' Nonu and Little Fumiaki Tanaka rolling into town. Allied to previous 'gets' like Hosea Gear, Tamati Ellison, Colin Slade, Andrew Hore and Aaron Smith, it would surely be an invigorating cocktail of talent that would restore the southerners to playoff relevance. Wrong.
The Highlanders lacked form and structure. They were like an atom missing neutrons - a bit of buzz but no electrical charge. These are grim days in Dunners.
4. Young man's game
Played on hard grounds, usually with a dry ball and game-plans designed to yield bonus points, Super Rugby is unquestionably a game for young men with spring and speed in their legs. The Highlanders trumpeted their tight five signings of Brad Thorn and Tony Woodcock who joined Andrew Hore in the pack, but 30-somethings can't do much when they are gasping just to stay close to the action.
The gnarled, experienced types are still the essence of test football but can't thrive in the high tempo world of Super Rugby where speed is the key facet.
5. Shallow talent pool
The competition has already stretched itself beyond the bounds of credibility with 15 teams. To invite more to join the fray will be disastrous.
Too many second-rate Kiwis are washing up in Australia and not really making a difference. The Australians have two teams in the top six for no other reason, really, than the Reds and Brumbies were able to pick up easy points by having two games each against the Rebels, Force and Waratahs.
It would be a surprise if the Reds make the last four and not that big a shock if the Brumbies don't make it either.
The Kings were brave but always playing damage limitation and it feels like Super 12 would be the ideal scenario yet all the talk is of expansion not reduction.
6. Capital punishment
The Hurricanes are quietly becoming a basket-case franchise. We say quietly because the Highlanders stole all their noise this year. The Hurricanes have not made the playoffs since Colin Cooper's side lost the semifinal to the Chiefs in 2009.
In the intervening years they have had a clean-out of local favourites - think Gear, Weepu, Hore and Nonu - alienated their strongest provincial partner to the point where Taranaki will now align themselves with the Chiefs, and have won 28 of 61 games played.
That is why they play in front of a lot of yellow plastic these days.
7. 10 is the magic number
Look who is left and then ask yourself who are the best six first-fives in the competition? The second list - which should read Dan Carter, Aaron Cruden, Morne Steyn, Beauden Barrett, Quade Cooper and Johan Goosen - almost perfectly matches the first. Barrett is the exception, but Christian Leali'ifano of the Brumbies would definitely be number seven on the list so the quality of the play-maker is clearly all-important.
A bloke like Chris Noakes at the Blues can run a steady ship but a bit more is needed to take a team to the playoffs. Start a campaign with Lima Sopoaga and you will probably threaten at times and get close: start it with Dan Carter and you're a good chance to go on and win it.
8. The refs need help
Everybody bar the men in pink loves a good refereeing controversy to make them feel good about their own jobs but, seriously, by the end of the season, the constant need to excuse one's own team's inadequacies on the whistleblower becomes tiresome.
Burdened by a rulebook that Goethe would have struggled to interpret and a halfway house attitude towards technology, the referee is on a hiding to nothing before the game starts.
That is not to say they can't be better - New Zealand's refereeing stocks have rarely been lower - but wouldn't it be nice to focus on the footy.
9. Nonu's legacy is tainted
A very good international; you could even produce a persuasive argument that Ma'a Nonu is the finest No 12 in the long and glorious history of the All Blacks.
However, you cannot avoid the fact that he has embarrassed himself at Super Rugby level over the past few years. It's not even his form so much, the lack of which is sometimes overstated, but the fact he appears to go out of his way to demonstrate how little this level of rugby means to him.
It might just be that Nonu becomes remembered as much for his shortcomings as a human as he is for his longcomings as a player.
10. Bonus pay-out
The bonus point system is near farcical and in need of a re-think. Take the Blues - yes, they were considerably better than they were last year, but they actually only won two more games, yet were in the playoff hunt right to the end almost.
They did this on the back of accumulating 12 bonus points. That seems like a massive reward for losing almost twice as many games as they won. The Hurricanes did almost as well.
Why don't we just do away with the one point for losing by less than seven? You lose, you lose... simple. And surely the professionalism of the players can be relied upon to make sure they don't give up if they fall well behind?
And why are tries the arbitrary measurement of entertainment? Who cares if teams score four or eight or 12? A 9-6 arm-wrestle can be way more thrilling than, say, the 49-44 game between the Highlanders and Hurricanes which was riddled with terrible defence and poor rugby.
11. Parallel universe
We know there's something happening in South Africa, we might be even briefly intrigued by it but, apart from small pockets of Browns Bay and Howick, we soon cease to care. The next time South Africa threatens to leave the Super 15 and align themselves with Northern Hemisphere interests, we should seriously consider their offer.
Watching a game in the middle of the night between the Bulls and the Sharks - it's just never going to happen and you can be pretty sure the antipathy is mirrored there.
12. Luck of the draw
The conference system is better, no doubt, but it does throw up some strange anomalies. Take this weekend's playoffs for example: Neither the Crusaders and Reds or the Brumbies and Cheetahs met each other in 'round-robin' play this year.
13. Players are human
Last year Rene Ranger was a slightly overweight, very out of form version of his true self. Pat Lam's erratic selections were partly to blame, more so, was the continued postponement of a court case. Having the uncertainty of that hanging over him ruined his season.
It was much the same this year with Julian Savea - he was in great form and then it all went wrong after he was charged with common assault following a domestic incident. His brain was scrambled, his world shattered and he couldn't perform.
Zac Guildford was much the same - once he finally made his admission about his alcoholism and accepted who he was, he began to play a lot better for the Crusaders.
14. Chink in the armour
We have already stated how ludicrous the Fall of the Crusaders Empire talk is, but the big worry for the franchise their inability to string back-to-back, high intensity performances together.
They have fallen into the unwelcome pattern of delivering an emphatic performance one week, a bit of a dud the next. How many times this year had they supposedly turned the corner, only to fall away the next week?
They were rampant when they smashed the Chiefs two weeks ago; a bit lame and lacking when they edged past the Hurricanes seven days later. The truly great Crusaders teams were relentless - this lot need to perfect the same art.
15. Pre-match non-entertainment
Ranging from dreadfully lame to non-existent, franchise chiefs must get their act together and recognise that they will do much better at attracting the casual fan by making the match experience more than just 80 minutes of rugby.
Purists might wince at this, but it's true. Rugby is light years behind where they should be in this regard.
And Eden Park officials - we don't know how many times you need to be told, but the food is still over-priced and lousy.