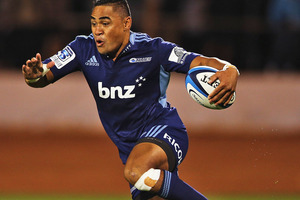 Blues midfielder Francis Saili has been dropped from the starting XV to play the Reds in Brisbane on Friday after he was charged with a driving offence.
He is due to face court tomorrow.
Saili's alleged offending comes as All Blacks and Hurricanes wing Julian Savea was remanded on bail today after his court appearance in Wellington on a charge of common assault.
Blues coach Sir John Kirwan this morning told the media of Saili's impending court appearance for allegedly driving while disqualified after being asked about Savea's situation.
"We've actually got a little misdemeanour in our side at the moment,'' he said.
"Francis Saili was disqualified from driving because of speeding tickets and he got caught driving the other day. We've handled that internally. He's a young man who has done a silly thing.
"We're not playing him in our starting 15 for punishment of that and there are NZRU protocols that are taking place.
"He's in court tomorrow. He's apologised to the team.
"Each team needs to have its protocols. We set those up at the start of the season so he's copped it and moved on.''
Asked if his teammates were disappointed with Saili, Kirwan said: "We've cleared that up. We just asked him to take more responsibility and make better decisions. He was disappointed, he apologised to the boys.''
- APNZ