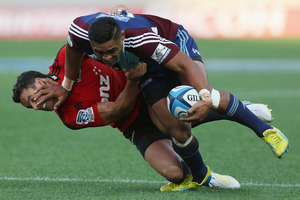 My phone ran hot with crowing texts and calls after the Blues' victory over the Crusaders. I guess I deserved it as, when I was put on the spot on the radio, I had to go with the Crusaders.
Well, I do have to live in Christchurch. I did qualify it by saying I wouldn't bet the mortgage on it; wouldn't even bet a box of beer on it; but I might risk a lazy fiver because ... well, just because ...
But those who read this column last week will know that, in spite of my radio forecast, I kind of predicted this result. Not by five tries to none - don't think anyone could have picked that. But I said the 'same old, same old' just hasn't been doing it for the Crusaders and so it proved on Friday night.
You couldn't fault them for desire or urgency and we all knew they wouldn't throw caution to the winds and try an ultra-expansive game against the Blues. That would just have been playing into their hands.
In fact, the Crusaders got a bit out-Crusadered by the Blues. That defence, presumably courtesy of one Sir G. Henry, was solid as and they took the high ball, ran and passed accurately. Their set pieces were a bit shaky and Piri Weepu's goaklkicking could have let the Crusaders back in the game but they were on top in the collision phases and held their nerve, discipline and patience.
This is all about mindset. I have been criticised for commenting on aspects of Canterbury rugby - and that's part of the problem. You can't criticise what they do because what they do is right, don't you know?
You look at this Crusaders team - all of them have come into a championship side, built from the ground up by the likes of Wayne Smith after they finished dead last. They've never had to come at things from the perspective of needing to do something different; from being under pressure.
They need to change the recipe and fast ... they now play away to the Canes and the Bulls.
Yet when you say something along those lines, some in Canterbury rugby chastise you because you've had the temerity to criticise ... That's what I mean about mindset. It's not about the players' ability or desire. It's about a state of mind and approach.
The Crusaders had it when Smith built them up from scratch and in the big issues - like Robbie Deans' decision to take the captaincy from Reuben Thorne and give it to Richie McCaw. It's not siege mentality, exactly, but a focus and a clear vision to change things - not just repeating what's happened in the past.
It's also a matter of doing the basics well, of knowing how to get into good positions; knowing when you are hard on attack you have to be patient, accurate and disciplined and work the appropriate players into position to carry the ball over the line. The Blues did that on Friday.
The Crusaders seem stuck in a groove. Dave Rennie and Smith are building what the Crusaders used to have at the Chiefs. So is John Kirwan, with the Blues.
The best example came with Israel Dagg's disallowed try. I thought it was a try and that double movement stuff was bullshit. I am not saying it would have turned the game - but it could have, as the Crusaders weren't that far behind thanks to Dan Carter's and Weepu's goalkicking.
But the Crusaders dropped their bundle. The replays had hardly stopped when the Blues ran out of trouble and that dinky little kick exposed the Crusaders, ending in that clinching try to George Moala.
The Blues have something to build on - Ali Williams playing better in the last two games than at any point in the last two years; Chris Noakes being very tidy and accurate at first five; Rene Ranger playing well. Nothing flash - but they did the business.
The Crusaders didn't.