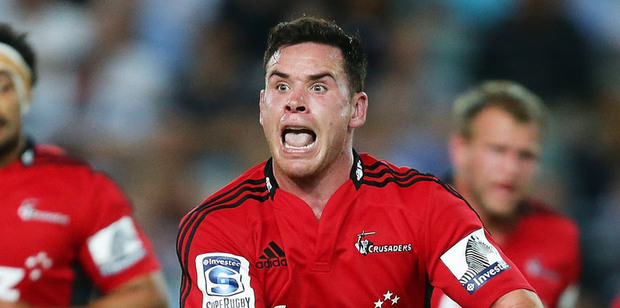 There's never much need to look too hard at the Crusaders at this time of year - everyone knows precisely what they are going to see from the competition's most successful franchise.
But this year is shaping differently and it's because the Crusaders feel they have blurred the line between consistency and predictability. So much has changed, and yet they haven't, which is why there is added pressure on the squad this year, why they are likely to be more expansive.
For large periods of last season, the Crusaders lacked ideas; they lacked invention, direct running or clever ways to use a backline lacking star quality. There was no Sonny Bill Williams to take them over the gain line or spark Robbie Fruean into life. With Sean Maitland injured and then strangely overlooked, they lacked finishing power on the wing and it often looked like Dan Carter and Israel Dagg were weighed down by the knowledge that they were carrying the entire creative burden.
Winning the ball was no problem. Doing something with it was, which is why Aaron Mauger and Tabai Matson have been brought into the coaching set-up.
The arrival of these two former All Blacks is the most significant change and best example of how the mindset has changed in Christchurch. The Crusaders want to catch teams by surprise - deliver better, straighter running lines and, quite simply, score more tries.
Last year, they scored 489 points - second only behind the Hurricanes - in the round-robin but less than half came from tries. While they picked up five try-scoring bonus points, the Hurricanes took eight and in the big games, the Crusaders were overly reliant on the boot of Tom Taylor and then Carter to accumulate points.
The decision to relieve Carter of the vice-captaincy is all about freeing him up to focus on running the attacking game; leaving him clear to deliver ways in which the Crusaders can be innovative, as they were at the peak of their powers during 2000-08.
It has been a Crusaders trademark to get the best out of the talent they have; to be trend-setters and market leaders - something they realised they weren't in 2012 after an extensive review.
"Most definitely (things are different this year)," says newly installed vice-captain Ryan Crotty.
"The review that came out of last year was fairly brutal. We were very harsh on ourselves and we took a lot out of it.
"We have been doing a lot more team activities; we have had the All Blacks back in camp and got everyone together. We are tighter and the rugby stuff has maybe taken a little bit of a back seat because we have the bye (in round one).
"I think you will see a new style of play from us. A little bit more width - giving the backs some more room to move and it is exciting."
Coach Todd Blackadder took plenty out of the review as well. He admitted late last year that he became distracted by thinking about winning a title - understandable given that the Crusaders have won seven but not one since he came into the job in 2009.
There are obvious parallels between Todd Blackadder and Ewen McKenzie, while the now-Reds coach was with the Waratahs. In five seasons in Sydney, McKenzie took the Waratahs to the final in 2005 and 2008 and the semifinals in 2006. While that was a vast improvement on all his predecessors, he was still let go on the basis that he hadn't won a title.
Blackadder has taken the Crusaders to the play-offs in every year of his tenure but also hasn't won that elusive title. Getting close is not enough after four seasons and Blackadder knows his future will be tenuous if the Crusaders aren't crowned champions this year.