Hawks swoop ahead of rival scouts to offer Papatoetoe 15-year-old club scholarship.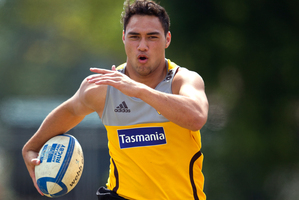 When he first started running around a rugby field as an 11-year-old, the thought that one day he would get the chance to play Australian Rules would, surely, have been the furthest thing from Siope Ngata's mind.
Even when he turned up to play AFL for the first time in a local cup competition late last year it was mainly about enjoying himself.
Better than your average rugby player - good enough to win Aorere College's Junior Sportsman of the Year award last year - Ngata caught the eye of rugby scouts, with the Hawthorn Hawks AFL club swooping first.
Liking what they saw, the legendary Melbourne-based club put the 15-year-old old through a series of tests and were quickly convinced they had (again) found their man.
"He showed out as being of the right size and with the athletic ability we look for," said the Hawks' recruiting boss, Graham Wright. "He kicked the ball okay and picked up the skills, which was pretty amazing for a 15-year-old.
We often find that players from a rugby background are tough, strong and have the athleticism we are looking for."
So much so they hardly hesitated in offering Ngata an international AFL scholarship which gives the club the right to nurture him through the next couple of years until, as an 18-year-old, he can become a listed player.
"While Siope and his family will come to Melbourne at least once a year and we can have a strong hand in his development, he is not precluded from playing any other sport in the meantime," said Wright. "We have done this with other young New Zealanders. It is a great life experience and we are there to assist him in all facets of his life.
"He can become an international rookie at the end of 2015 and it is up to him whether he stays at Aorere College or takes up the option of continuing his schooling here in Melbourne, as another of our recruits has done.
"We undertake these arrangements knowing that he could go with another sport, in his case rugby, but what it does do for us is to lock him in with Hawthorn should he decide that's the sporting career he wants to pursue."
Wright says that while all AFL clubs have the opportunity to recruit in this way, the Hawks are doing it to a greater extent than other Aussie Rules clubs.
Two other young New Zealanders are already on the club's books. Shem Tatupu signed with the club from St Peters College and comes from an rugby and league background - father Tony a former international and Warriors player - and Kurt Weatherley, ex Hamilton BHS, comes from a basketball background.
While obviously pleased with the opportunity and commitment from the Hawks, Ngata, who showed out in testing with his speed, agility, vertical leap and endurance, said he looked forward to another season of 1st XV rugby although he would take a short break in July to visit his new club.
Ngata stressed money was not part of any discussions but Wright said the scholarship was worth about $10,000 a year, much of it going towards bringing the new recruit and his family to visit the club.
At 1.86m and 98.6kg, Ngata is a big lad - big enough to play in the 1st XV as a 13-year-old in Year 9 - and obviously has all the traits the Hawks were seeking in signing him as the fifth recruit from this side of the Tasman.