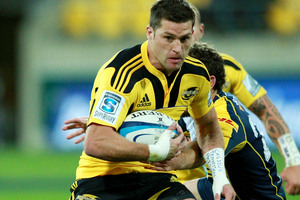 All Blacks wing Cory Jane thought his right knee had detached from his leg in the seconds after he ruptured his anterior cruciate ligament during Hurricanes training 12 days ago.
Jane told media in Wellington this morning of the moment he suffered the injury, which is likely to keep him out of all rugby for the year.
"The grounds were pretty hard, but we were doing a light drill, it wasn't even full-on contact or anything,'' Jane said.
" Iwent to get a pass from the halfback, then I went to step and the leg slipped a little bit.
"I kind of had to do the splits and one of the boys tapped me from the other side and I just folded over. I knew straight away something was bad.
"It felt like my knee was hanging out the side of my leg.''
Jane has yet to have surgery on the knee due to swelling.
"It is coming down,'' he said of the swelling. "But I won't know [when rehab will start] til he says, `'I want to cut your leg open'. It's normally the time from then [you can gauge your comeback] ... I'm hoping I'll play some kind of rugby this year, but that's if all goes well.''
Jane said he was too busy to mope around the house. His wife Amie is expecting the couple's fourth child which is proving to be a good distraction.
"At the moment I'm up. I'm not getting depressed or anything about it. It is what it is. It's part of the game. You get injuries and you just have to deal with it.
"At first it wasn't too good. The knee was a bit swollen up and a bit sore, but now it's not too bad. I can walk on it [with crutches], but I have to just be patient and keep getting the swelling down so the surgeon can do the business.''
Play Virtual & Fantasy Super Rugby
Test your tipping skills with Virtual or create your dream team with Fantasy Super Rugby and be in to win a slice of over $10,000 in prizes.
Be part of the game and sign up now.
- APNZ