Hurricanes and Blues fallouts water under the bridge as All Black veteran puts weight behind Highlanders.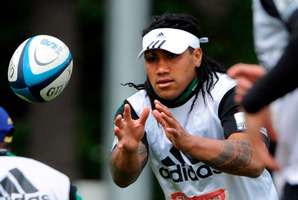 Ma'a Nonu has arrived in Dunedin and says what has happened before is history.
Nonu, the 76-test All Black midfield back, officially joined the Highlanders fulltime this week and is fit and available for the warm-up game against the Crusaders tomorrow in Oamaru.
"It's not been too bad. We've had a couple of hard trainings, really hard actually, but it is a good environment," Nonu said.
"There were a few factors in coming down here. I talked about that last year when I signed to come down here and I don't really want to talk about that.
"I'm here now and looking forward to the challenge.
"The first question I've got is to get a starting spot myself, really. There are good midfielders here with the likes of [Shaun] Treeby and Phil Burleigh."
He might play it down but Nonu is a key for the Highlanders. You do not play 76 tests for your country by being a passenger. His strong running and hard-hitting defence will be assets to his new team.
He was a star in the Hurricanes for many years before he ran foul under a new regime.
That led to a trip to the Blues for one year, which ended under a cloud with accusations of handshakes and reneged assurances.
But as far as Nonu is concerned, that is water under the bridge. It is the now and the future for Nonu to concern himself about.
"The Highlanders have had a great season over the last two years. Now it is a chance to try and add something to the Highlanders and do my best.
"There have been a few All Blacks in this side, a few young players who have played well.
"Lima Sopoaga has played well, Kade Poki has been playing well on the wings, Buxton [Popoali'i] is a good player."
Nonu has had the surfboard out during his break when he was holidaying in the North Island but said a shark warning has kept him away from St Clair beach so far.
Sharks and surf now will have to wait. Break time is over and it is time to concentrate on rugby and listen to head coach Jamie Joseph.
"I've played a few games when Jamie was coaching in Wellington but that was a long time ago. I've know him for quite a long time. He is hard-nosed, really, a ruthless coach, who knows what he wants and gets the best out of the players. And that's vice-versa, really. They really want to play for him.
"I'll take it day by day, really, and see how it all unfolds. I want to be fit, and try and play my best."
Nonu is in the period of his career - he turns 31 in May - when heading overseas may be at the back of his mind. He spent a short period in Japan after the 2011 Rugby World Cup and there were whispers he may head there again within the next year or two.
But Nonu played a straight bat to those questions yesterday.
"I'm not looking too far ahead of me. I'm just going to concentrate on what is ahead of me here."
Coach Joseph said yesterday Nonu was likely to start the pre-season match in Oamaru, pairing up with Burleigh in the midfield.
Play Virtual & Fantasy Super Rugby
Test your tipping skills with Virtual or create your dream team with Fantasy Super Rugby and be in to win a slice of over $7,000 in prizes.
Be part of the game and sign up now.