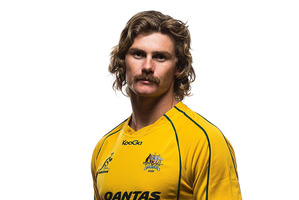 Waratahs playmaker Berrick Barnes says he is still some way off finalising his future, despite reports linking him to a Japanese rugby club.
Wallabies star Barnes has been reportedly linked to the Panasonic Wild Knights for a stint starting later this year.
The talented utility back was full of praise for the Waratahs' training regimen under new coach Michael Cheika, but could not guarantee where he would play next year.
"There won't be any finalisation on all that sort of stuff for a while, there's a lot of water under the bridge with all that yet," Barnes said.
"It's just where I am in my career."
"I've got to make decisions on what I think is best for both myself and my family and obviously my body too, I've got to think about those sort of things."
"I couldn't fault our pre-season here, it's the most rejuvenated the whole squad has felt for a while, and how hard we've worked."
"There's nothing in this pre-season that hasn't made me want to stay, but it's a decision on where I'm at and if I was to go, I don't think it would be the last time I'd play in Australia, that's for sure."
Barnes has warned against heaping too many expectations on former rugby league star Israel Folau following the code-hopper's strong two-try debut in last weekend's trial against Melbourne.
"He had a great game and he can only improve, I suppose," Barnes said.
"You don't want to put too much pressure on a guy who is just coming into it and has never really played the game before."
- AAP
Play Virtual & Fantasy Super Rugby
Test your tipping skills with Virtual or create your dream team with Fantasy Super Rugby and be in to win a slice of over $7,000 in prizes.
Be part of the game and sign up now.