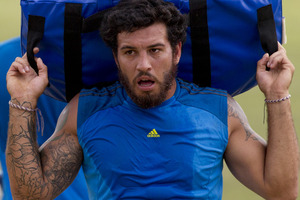 From bit-part player to leading man, Rene Ranger's shift in responsibilities at the Blues could hardly be greater.
This year is already looking more positive for the 26-year-old after the frustration of 2012.
Then the former All Black's form was hampered by injury, a two-week suspension for an alleged dangerous tackle in South Africa and an almost constant swapping between centre and wing by former coach Pat Lam - not to mention the end of a courtroom trial that found him not guilty of assault.
"I thought I had that 13 spot sussed but with the likes of Benson Stanley and Ma'a Nonu, you get chopped around quite a bit," he said. "It was pretty hard, it got a bit frustrating at times, but hopefully this year I can cement that 13 spot."
In the absence of Stanley and Nonu, not to mention Alby Mathewson, Rudi Wulf and Isaia Toeava, Ranger finds himself in the novel position of being the most experienced player in the Blues' back line behind Piri Weepu.
With that comes responsibility - new coach Sir John Kirwan, who has told Ranger the No13 jersey is as good as his if his early-season form warrants it, has placed a leadership role on his still-young shoulders.
"It's pretty funny I guess," said Ranger. "Usually I'm just one of the boys, but it's only me and Piri from last year. JK has put more of a leadership role on us to help some of the young fellas out. It's exciting. New backs, new faces. I know the boys are keen.
"I don't see myself as a leader," Ranger added. "But he's put the onus on me to step forward and put my hand up. I've been there and done that. The senior boys before me helped me out really well, hopefully I can do the same thing."
Helping Ranger in his unfamiliar role is his fitness.
He admitted it was an area of weakness last year after a less than rigorous off-season but he credited the training he did for last month's entertaining Fight for Life bout against Kangaroos league player Greg Bird, a fight he lost on points, for his new shape.
Ranger has continued with his boxing training and was right at home at the Blues' session with Shane Cameron this week.
"I struggled a bit with my weight last year, I didn't come into pre-season quite as fit as I should have been. It helps in your game quite a bit and I suppose if the young fellas see me work hard they will too. I've lost about 4kg and am sitting around the 100kg mark."
Ranger's three tests for the All Blacks came in 2010, but since then he has struggled to consistently reach his top form. His relative lack of fitness might have hindered him in terms of work rate but a more obvious weakness was his decision making.
At his best Ranger is a like a muscle-bound pinball in contact with the ball and on defence - always charging in a bid to find the path of least resistance - but at his worst he is prone to making the sort of gaffes that make coaches want to put their head in their hands, a point he freely acknowledged.
"JK is keen to let me do my thing abut at the same time I have to make the right decisions. That was a problem in the past with me, my decision making. We've got some fast guys on the wing and some good midfielders and JK wants to use us. If that's a running game then I'm happy with that."
Until round one - a match against the Hurricanes in Wellington on February 23 - Ranger is enjoying a pre-season in which he has the comfort of knowing he won't be at the back of the pack on the long runs. It's a physical investment which should also pay off mentally.
"That's usually where I am, I'm usually at the back with all the forwards. But I've been good this year with my pre-season training, I'm up there. I'm pretty stoked. The trainers are happy, JK is happy, It's going to be a good season."
Blues' pre-season schedule: February 2 v Reds, Queensland; February 9 v Waratahs, Toll Stadium, Whangarei; February 15 v Highlanders, Queenstown.
- APNZ