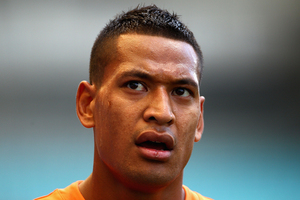 Israel Folau has confirmed he's switching to his third football code, signing a one-year deal with the NSW Waratahs for the 2013 Super Rugby season.
Former rugby league Test and Queensland Origin star Folau was unveiled as a new Waratahs player this morning at a Sydney media conference alongside coach Michael Cheika and chief executive Jason Allen.
It ends a month of intense speculation about the 23-year-old's future since he cut short his multi million dollar, four-year deal with AFL club Greater Western Sydney on November 1 citing a lack of passion for the game after he struggled to adapt.
While a return to the NRL was expected, Folau spurned the Parramatta Eels to switch to rugby union with the Waratahs, who finished in 11th place last season after losing their last matches.
Folau admitted it had been difficult for him and his family over the past few days after being slammed as a money hungry mercenary in some sections of the media when he turned his back on the Eels and NRL after protracted talks.
In answer to a question, Folau said he had never promised Parramatta coach Ricky Stuart he would join the Eels after leaving the Giants.
"I didn't promise anyone anything. There were no promises at all,'' he said.
"As I said at the press conference when I left the Giants, I was keeping my options open, and was looking at rugby league and rugby.
"I met with Parramatta on Friday, met them face to face and told them how I was feeling, I have nothing to hide.
"If I was here for the money I would have stayed with the AFL for the remaining two years of my contract.''
Folau said the fact that he liked what he saw in new Waratahs coach Cheika during several meetings was a major factor in his switch to rugby and admitted he hoped to play for the Wallabies in time.
But he was under no illusions about the size of the task that faces him by switching to the 15-man code which he had only played at school level.
"It's been a tough week for me with what's been reported,'' he said.
"Everyone is entitle to what they want to say and think. I have no control over that. I am looking forward to getting into training with the boys.
"It's going to be a big transistion. Playing as a schoolboy to Super Rugby is going to be a massive challenge.''
-AAP