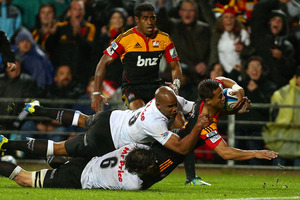 The Chiefs' Super 15 victory was a coaching job, pure and simple, and now those same men at the top will discover how difficult it is to create a longstanding winning franchise.
Dave Rennie, Wayne Smith, Tom Coventry, Andrew Strawbridge - take a giant bow. As head coach, Rennie must take the major accolades. The players responded brilliantly to whatever went on at the Chiefs this year, so this is not an attempt to disregard their outstanding contribution. But the coaches must take the biggest bow.
Rennie has a way of bringing out the best in people and getting his players on the same page, as was previously shown at minnows Manawatu. Smith has stamped himself as a brilliant defensive co-ordinator, firstly with the All Blacks. Smith's presence would also have given Rennie a vastly experienced rudder to lean on and a dependable sounding board. Coventry can take a lot of credit for what happened in the Chiefs forwards, where a clutch of players became core All Blacks or excellent new and recycled prospects.
Added to that, choosing Craig Clarke as captain has proven to be a masterstroke and set the tone of commitment. The new Chiefs regime regarded big hearts as vital when forming their squad, and apparently looked at statistics such as players who make repeat tackles as a way of finding the right stuff.
Man for man, on paper as they say, the Chiefs were no better than many other squads going into the season. Indeed, their lineup was decidedly inferior to the Crusaders, and probably a couple of South African teams. They had to be turned into a winning side, which is what new Super 15 coach Rennie did.
It won't last though, not in terms of securing the title year after year and emulating what the Crusaders achieved over such a remarkably long period. That won't occur again. The Crusaders were a genuine rarity especially in having both Richie McCaw and Dan Carter, once-in-a-lifetime players who happened to come along in the same lifetime.
The new-look Chiefs, Rennie style, will be there or thereabouts. As for actually winning the title, or repeatedly making the final - that's another matter. There are too many uncontrollable variables in the Super 15 for one side to maintain a long supremacy.
The relative shortness of the Super 15 compared with other professional competitions means a few hiccups can quickly become a nightmare, with not enough time to repair the damage. Billy "Moneyball" Beane, the pioneering American baseball boss, told me this year that injuries are THE most important factor in assessing any sporting season. The short Super 15 can overly magnify injury and other problems.
The Super 15 bonus point system is a lottery of sorts that you won't always win. The extreme Super 15 travel factor can pull down the best of sides, and is exacerbated in the finals format as the Sharks were always going to find out. Rich overseas clubs continually pick away at New Zealand's playing resources and while this won't create a carcass, it does rattle a few bones as the Chiefs are already discovering. The vagaries of national selection are overwhelmingly important in keeping players in this country because All Blacks are the only big money earners. Fringe prospects don't hang around forever.
The Chiefs are not going to find another Sonny Bill Williams - the unique variety he brings to any attack is irreplaceable. The Crusaders sure missed him. In the Chiefs' case, they also have a strange problem in Richard Kahui, a pivotal player who can't beat a weird injury curse.
When you add those particular Super 15 and Chiefs characteristics to the standard sporting ones - particularly the extreme analysis which means advantages are usually short-lived - then you have a topsy-turvy environment beyond the control of even the finest coaches and chief executives.
To be brutally honest, the current Chiefs squad isn't good enough to overcome all those variables year after year.
But Rennie has, in an instant, created a setup that will challenge and beat the Crusaders when it comes to scooping the best talent, which is important. For instance, had the timing been a little different, Israel Dagg might be in Hamilton, not Christchurch. The bottom line is this: the Rennie-style Chiefs will be in the hunt and you can't ask for much more than that. As for repeatedly winning the title though, different story.
Beyond that, a hearty congratulations to the Chiefs, to everyone involved. You have played tremendous football, done a fantastic job and made this among the most memorable of Super 15 seasons.
Blade runner's normality inspiring
I can't remember what I've written or thought about the South African bladerunner Oscar Pistorius in the past. Whatever those thoughts were, they have been superseded by watching him run in the Olympic 400m, where he created history as a groundbreaking double amputee competing in so-called able bodied events. What struck me was just how normal it seemed.
Pistorius is an extraordinary story, not only of athletic achievement, but perseverance against authorities blocking his path.
There may have been a time when I didn't think he should compete in this arena either, and I still have sneaky doubts about the legitimacy of it in sporting terms. What, for instance, would we think if he had blades that definitely made him a lot faster than runners with two full legs? But overall, I'm all for his participation now, which only reinforces that we can't see everything in black and white terms. I also have sympathy for those in power who have been called upon to adjudicate the tricky Pistorius situation.
Pistorius' Olympic rivals have helped normalise the situation, saying they regarded him as just another athlete. And that's what surprised about my own reaction - that I didn't have much of a reaction to watching him finish second in the historic heat. Pistorius probably wants to be regarded as just another athlete, and that's how I saw him.
For many, his story will be inspirational. In his own way, Pistorius is helping a world that sees too many differences in each other come together. He is helping break our instinct to categorise and pigeon hole people. And that is something the Olympics should be all about.