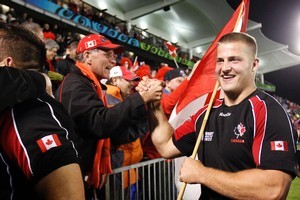 World Cup scheduling is all about money and influence.
You would not quell the squawking if senior sides like New Zealand, Australia, South Africa and England had to endure the quick-fire itineraries inflicted on others.
It's no surprise which sides get the rough end of the pineapple so pool play can finish on time.
Mark down USA, Canada, Namibia and Georgia for compressed schedules as well as Samoa.
That lot are under immense pressure to play in two matches this week, with just three-day intervals, while the tournament "drawcards" get more time to relax and recover.
What it comes down to is those who make up numbers and the big boys - sides with clout at the International Rugby Board and identified by their broadcast partners as television rating winners.
Sides with lower rankings are expendable, though quite how Samoa fits into that category does not get an explanation.
They are in the Pool of Death with the Springboks, Wales, Fiji and Namibia - arguably the toughest group from which to graduate to the quarter-finals. Samoa have to conclude their four games in 16 days while South Africa have 19 days and Wales get 21 days for the same schedule.
Samoa are usually box office viewing, all razzmatazz and thunder but they are given a cheap itinerary. Why? Because they are not a commercial heavyweight in world rugby, they are crowd-pleasing with little financial rub-off.
They are fashionably unfashionable. Samoa do not bring the bucks to the IRB coffers.
Like other teams with slimline assistance, they can least absorb the quick-fire programme while multi-resourced sides get preferential treatment.
Tonga have to play three games in 12 days and then have a 10-day break before their final pool match.
After last night's test, Japan has four days before their match against Tonga who have already played the All Blacks and Canada.
What else can I do, John Kirwan asked, when quizzed about using an alternate side against the All Blacks. He wanted his men to be competitive and his stars fit and sparky for Tonga on Wednesday in Whangarei.
If the All Blacks had to play France on Wednesday instead of next Saturday, there would have been all sorts of complaints.
Statements are issued from the IRB about the World Cup creating income to develop the game more in the Pacific Islands. Good stuff, plenty of applause, about time and all that.
But what about an equitable schedule or at least one which makes more of an effort to put them on a similar playing field?