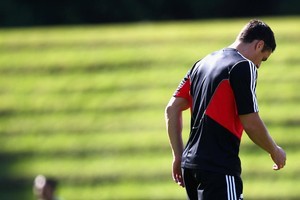 Daniel Carter's distraught mother broke down in tears as she told how she and her husband had been unable to get a flight to Wellington to be with their son after his Rugby World Cup-ending injury.
Bev Carter said from the family home in Southbridge, Canterbury, that her husband, Neville, had taken the news hard.
Contacted by the Herald, she said he was talking to their son on the phone at that very moment and they were not feeling up to speaking publicly about his injury.
Neville Carter later told TVNZ that he had been unable to sleep on Saturday night because he was busy consoling his wife and son.
"[Daniel's] pretty upset, of course, and he would be, because of all the hard work he has put into it," he said
The bad news did not stop Mr Carter doing his civic duty yesterday.
He has been a volunteer firefighter with the Southbridge Volunteer Brigade for about 38 years, and dropped everything when alerted to a hedge fire in the town.
Chief fire officer Don McMillan said the blaze in the 100m-long pine hedge took about an hour and a half to douse.
Mr Carter was there, as usual.
"It's all part of the job. If you're a member, you've got to drop everything and get on with it," Mr McMillan said.
Mr Carter had spoken about his son's injury, telling fellow volunteers that "these things happen".
"You've just got to get on with it," he had told them. "It's just one of those things in life."
The small community took news of their favourite son's injury hard.
"It's hit us like another earthquake." said Southbridge Rugby's club captain, Gary McGregor.
And the club's manager, Chris McMillan, admitted that quite a few people who had watched Daniel Carter grow up had shed a tear.
Southbridge hotelier Russell Guenole said locals began arriving at the pub about 4.30pm on Saturday with the news that Carter's World Cup was over.
"I don't know where [the news] came from," Mr Guenole said.
"A lot of them were just gutted - especially those who know him. The odd time he comes in and has a yarn with different ones and all that."
The Southbridge Rugby Club, which has worked with Neville Carter to lay on "Carter Country Tours" for World Cup visitors to the district, had to get past the disappointment yesterday to host a barbecue for the All Blacks-Canada match.
Mr McMillan, who knows the Carter family well, said his heart dropped when he heard Dan was out of the cup.
"Just really gutted for Dan himself because I know how much it meant to him - especially this World Cup being played in New Zealand."
Carter was strong and would gain strength from the support in the rugby and Southbridge communities, Mr McMillan said. "Injuries happen, so you've just got to make the best out of a bad situation, I suppose."
The Carter Country Tours would continue unaffected.
Mr McGregor said Cantabrians had coped with plenty from the earthquakes over the past year and would deal with this setback as well.
Daniel Carter's home in Christchurch was damaged by the earthquakes.