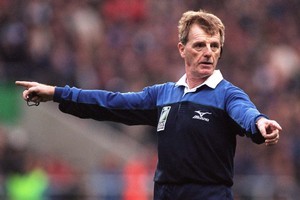 Knowledgeable types insist the Welsh whistler had a fine World Cup in South Africa. When the referees were assessed at the end of pool play, Derek Bevan was top.
But two shadows will always hang over Bevan's tournament. First, he refused a try to France's Abdel Benazzi in a rainy semifinal against the hosts in Durban. The giant No 8 looked to have scored after a massive French forward drive. Bevan said not, and the Springboks clung on for a 19-15 win and a place in the final.
What was awarded - under highly dubious circumstances - was a gold watch. South African rugby supremo Louis Luyt, whose speech caused a mass player walkout from the final banquet, gave Bevan a watch in recognition of his refereeing. In the whistling art, Luyt said, the man who got the Boks into the final was "the most wonderful in the world".
Bevan had the grace to be embarrassed by the display of Afrikaner affection: "It was something I could have done without. It could've been misconstrued."
1995:
Video: Great World Cup moments - 1995
Setting the scene: The drop goal that helped heal a nation
Doubt and drama on road to '95
Shine of top ref's gold day marred
Tournament action: Springboks' first time unites divided nation
The outcome: Mandela factor unified an emerging nation
How we won it: South Africa - Magic of coaching a world-class team
All Black memories: 'We had the weapons to win it'
Tournament star: Jonah Lomu - The try scoring blitz
Legendary characters of the World Cup