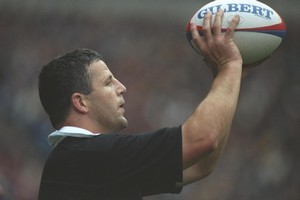 The Springboks' record since their readmission to international sport did not send out strong warnings.
They would always be a dogged opponent, especially at home. Yet they had lost to the All Blacks, Wallabies, France and England, and their results since their return showed 10 wins, two draws and 10 defeats.
They were on a bit of a run with the 18-all draw against the All Blacks at Eden Park in August 1994, starting an unbeaten six-test curve against Argentina, Scotland, Wales and Samoa.
But there was no rock-hard evidence that the Rainbow Nation would have won the previous two tournaments as the brazenly shameless Dr Louis Luyt pronounced at the post-match dinner. His crass comment was a stain on the best tournament in Cup history.
Australia were favoured to defend their crown. They had lost just four of their 22 tests since '91 and had a quality side.
They had a backline to die for, Tim Horan and Jason Little had been fully repaired after their horrendous leg injuries the year before, George Gregan and Michal Lynagh were there to steer them around the field and Matt Burke chimed in from fullback with Campo.
Phil Kearns, John Eales and Tim Gavin were big competitors in the pack although there was some uncertainty about the forwards going the distance.
There was tension in English rugby between those who wanted to embrace the approaching professionalism and those who wanted nothing to do with it.
Despite that, the English test side had an impressive sheet showing 18 wins and five losses since their World Cup final defeat four years earlier. But skipper Will Carling caused outrage when he spoke about the "57 old farts" who controlled the union. He was sacked just weeks before the tournament, but, after a standoff, the RFU backed down and restored him to the captaincy.
France were tracking at about 65 per cent success. They had sealed a spectacular series win the year before against the All Blacks in New Zealand with a chilling "try from the end of the earth" at Eden Park.
Then they had a strange blip against Canada and a modest Five Nations. What to make of it? Probably nothing other than it was standard French fare with their prospects reliant on the impact of coach and former test halfback Pierre Berbizier.
Wales claimed the dubious honour of being the first of the founder IRB nations who had to qualify for the tournament, while Ireland had only just pipped Wales in the desperate duel to avoid the Five Nations wooden spoon.
Scotland had a clutch of experienced men but not enough clout to go further than a quarter-final.
After their eye-road to '95catching start in 1991, no one was going to take Samoa lightly. Once again their test match programme between World Cups was minimal - four tests, a win against Wales and defeats by the Tri-Nations countries.
In New Zealand, the post '91 inquiries, political backlash and recriminations delivered Laurie Mains as All Black coach.
His first steps towards the '95 World Cup were shaky. He wanted Mike Brewer to be his skipper, but injury negated that idea and Sean Fitzpatrick was promoted with their first test together ending in defeat against a shoddy World XV.
Their first year finished with an enthralling narrow series defeat in Australia followed by the historic Newlands victory against the Springboks in their readmittance to world rugby.
A key figure in midfield was Frank Bunce, pilfered after his outstanding work for Samoa at the '91 event and set off on a lengthy All Black career. Mains needed a first five-eighths to take over from Grant Fox and eventually Andrew Mehrtens popped up in 1995.
The year before, teenager Jonah Lomu had also surfaced, a rugby talent so huge that Mains picked him against France. It was a significant move from the cautious Caledonian coach, even if it only lasted two tests. Persuasion, cajoling and encouragement were needed the next year for Mains to u-turn once more but he could see the potential for Lomu's devastating impact.
Openside flanker was also an issue until Josh Kronfeld got his game sorted, while Glenn Osborne appeared to demand a place at wing or fullback.
After three difficult years and a '94 season when they lurched through three losses, two wins and a draw against France, South Africa and Australia, there were more than mutterings about Mains' continued tenure.
John Kirwan felt the coach had "lost the plot" when he replaced him for the Bledisloe Cup decider played midweek and at night in Sydney to avoid a Commonwealth Games broadcasting clash.
Eventually Kirwan's replacement, Jeff Wilson looked as if he would secure the transtasman honours, until George Gregan came from nowhere to jarthe ball from the wing's grasp and throw more doubt over Mains' tenure.
The NZRU was asked if it was too late to make a coaching change, with a further challenge from John Hart.
Mains kept his place, but there was serious tension throughout rugby circles. The coach gathered his extended squad for a succession of training camps, sessions designed to increase their fitness, test their spirit and build their ideas.
They had one test in April before starting their World Cup campaign a month later. The All Blacks had a rollicking 73-7 win against Canada at Eden Park, but what did it tell us?
Even against an underpowered opponent, Mehrtens looked a serious talent with his timing and world record 28 points on debut.
Questions lingered over Lomu's fitness.
Zinzan Brooke damaged his Achilles tendon and was picked for the Cup but unable to play for a few weeks, and his younger brother Robin had a similar troublesome injury.
The team left for the third global tournament with high hopes and equal doses of public uncertainty.
1995 in the news
Bryan Adams continues his rich World Cup year form, hitting No 1 with Have You Ever Really Loved a Woman as the tournament commences. But Coolio's Gangsta's Paradise is the biggest hit of the year.1995 in the news
March 27: Forrest Gump wins the Oscar for Best Picture. Star Tom Hanks wins Best Actor.
April 28: Thirteen New Zealand polytechnic students and a Department of Conservation worker die when a viewing platform collapses into a 40m deep gorge at Cave Creek in the Paparoa National Park.
May 27: Actor Christopher Reeve, best known as Superman, is paralysed after falling from a horse.
June 9: Ansett Flight 703 crashes at Palmerston North, killing 4 of 21 on board. Passenger Reginald John Dixon was awarded the New Zealand Cross posthumously.
September 5: France resumes nuclear testing in the Pacific to widespread condemnation.
October 3: An estimated 150 million people watch live on television as a Los Angeles jury finds OJ Simpson not guilty of murder.
1995:
Video: Great World Cup moments - 1995
Setting the scene: The drop goal that helped heal a nation
Doubt and drama on road to '95
Shine of top ref's gold day marred
Tournament action: Springboks' first time unites divided nation
The outcome: Mandela factor unified an emerging nation
How we won it: South Africa - Magic of coaching a world-class team
All Black memories: 'We had the weapons to win it'
Tournament star: Jonah Lomu - The try scoring blitz
Legendary characters of the World Cup