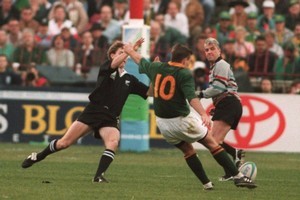 I struck it superbly and when I looked up and saw how it was rotating and where it was going, I knew it could not miss. I turned and ran back."
Even 16 years on, Springbok first five-eighths Joel Stransky remembers as if it were yesterday, the moment that changed his life, and his country's fortunes, forever.
A single drop goal late in extra-time in a tense 1995 Rugby World Cup final had the Springboks snatch victory over their arch-rivals, the All Blacks.
But this match was never about rugby. It was much more important than that. That victory - in fact, the entire tournament - was the breakthrough a divided country needed to unite.
It is not hyperbole to say the Springboks' 15-12 victory over the All Blacks at Ellis Park was probably one of the most significant political events in South Africa - up there with the release of Nelson Mandela from prison in February 1990 and the first democratic elections in April 1994.
The All Blacks fought bravely, wracked by accidental food poisoning, but it was not meant to be. Even if they had been at full fitness, everything was stacked against them. This was the moment reality became the perfect Hollywood script.
For Stransky, that victory marked the moment the fortunes of the struggling Rainbow Nation changed.
"For us as a nation it helped us to unite in some way. It was a time of uncertainty that became a time of unification. Nelson Mandela is an incredible man and his efforts in this period were enormous."
The movie Invictus goes a bit overboard in its portrayal of "Madiba", as he is affectionately known to South Africans, as the scheming architect of the Springboks' victory. Having said that, Mandela's contribution to spurring the Springboks to victory and getting the country behind the team, cannot be underplayed.
Stransky puts it in perspective: "I am not sure one can be more motivated for a World Cup or World Cup final, but the fact that we had the great man behind us meant we had the whole nation supporting us and that feeling is inspiring!"
With the 2011 Rugby World Cup just months away, New Zealand can learn from how South Africans embraced that tournament. The whole country was happy and everyone became an expert - from the petrol attendant, who until the tournament had been soccer-crazy, to the Sandton housewife in her 7-series BMW.
Small but significant gestures by Mandela, like visiting the Springboks at training and greeting them all by name and wearing captain Francois Pienaar's No 6 jersey to the final, were noticed by his legions of supporters. Their attitude was: "If Madiba can support them, so can we".
White people, and rugby supporters in particular, picked up on this mood of change and embraced it. Finally they had something in common with their black countrymen and they were not afraid to feel proud of their country. The Rainbow Nation, built by "communists" on the back of Afrikaner failure and tyranny, was finally theirs to celebrate.
This feeling of inclusion was also evident among the Boks.
"We were all part of the new South Africa and we embraced the change and the move towards a proper democracy. We learned the new anthem, we coached in the townships and we believed in the future of our multicultural society," Stransky said.
When the Boks won, the whole country celebrated like it had never celebrated before. Suddenly anything was possible as long as everyone worked together. It set a solid foundation for the country to build on which showed in the superb staging of last year's soccer World Cup.
To this day, South Africans of all colours stop Stransky to talk about that match.
"It is still a great honour to be recognised," he said.
An honour well deserved for a man who helped give his country hope by simply kicking a drop goal.
1995:
Video: Great World Cup moments - 1995
Setting the scene: The drop goal that helped heal a nation
Doubt and drama on road to '95
Shine of top ref's gold day marred
Tournament action: Springboks' first time unites divided nation
The outcome: Mandela factor unified an emerging nation
How we won it: South Africa - Magic of coaching a world-class team
All Black memories: 'We had the weapons to win it'
Tournament star: Jonah Lomu - The try scoring blitz
Legendary characters of the World Cup