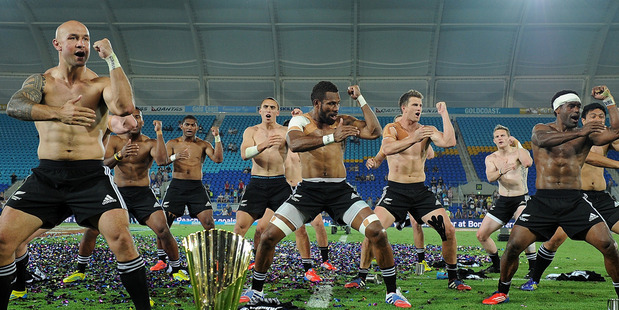 World champions New Zealand proved too strong for an undermanned Australia to win the Gold Coast rugby sevens world series tournament late last night.
The Kiwis overcame a sluggish start to take out the title with a 40-19 victory.
It was New Zealand's first tournament win on the Gold Coast, after finishing runners-up to Fiji in the previous two years.
Australia went into the final without ex-Gold Coast Titan Shannon Walker and in-form star Nick Malouf, who both suffered head knocks in a gruelling semifinal clash against South Africa.
Despite their lack of bodies, the hosts made a bright start, racing to a 12-0 lead.
But NZ didn't take too long to get into their stride, with a double to Ambrose Curtis and two deadeye conversions by Tomasi Cama giving the favourites a 14-12 advantage at halftime.
Cama then scored a third after the break before Waisake Naholo and Joe Webber put New Zealand out of reach.
Cameron Clark scored for Australia but even that counted for little as David Raikuna went over under the posts as the final siren sounded.
It capped a dominant tournament by Sir Gordon Tietjens' men, who didn't concede a point on their way to the semifinals and were only really challenged by England in a narrow 14-5 semifinal win.
Australia, seeking their first tournament win on home soil since 2002, were always unlikely to bounce back for the final after a 24-19 extra-time win over South Africa in the semis.
In the minor competitions, the US claimed the shield title, France took out the bowl and two-time defending champions Fiji had to settle for the plate after being eliminated by England in the quarter-finals.
The next stop in the world series is the Dubai Sevens on November 29-30.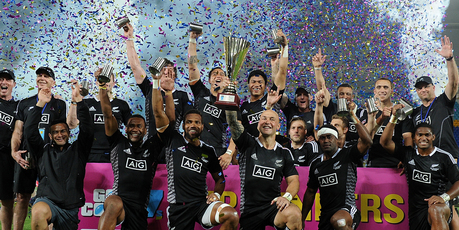 - AAP