On the eve of the official celebration of Queen Elizabeth II's 88th birthday, Danielle Wright talks to Aucklanders who share regal passions.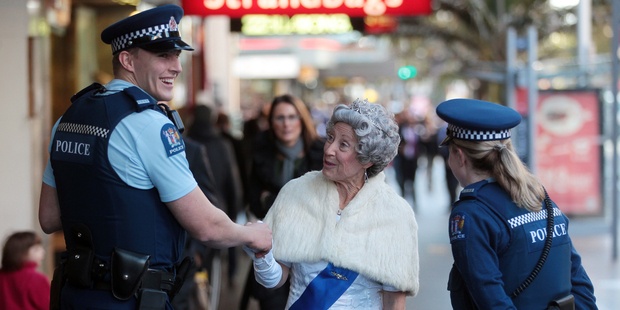 The Queen must love birthdays - she celebrates hers twice each year. The first is a mostly private affair on her actual birthday on April 21. The second is in June, during a time that promises better British weather for the birthday, or Trooping the Colour, parade, given in her honour.
Here in New Zealand, her birthday is closer to the start of the ski season than it is to a sunny day, but we still managed to find Aucklanders who share her passion for English china, Welsh corgis and Scottish country dancing, as well as an actor used to walking in her shoes.
Puppy love
In 1933, the Queen was given a corgi puppy as a playmate by her father, then the Duke of York. She was instantly smitten and it started a life-long love affair with the Pembroke Welsh Corgi breed. Her first corgi was named Dookie - a combination of "The Duke" and "snooty", a nod to the puppy's personality following his good fortune at being chosen as fit for royalty. In 1944, she was gifted a corgi named Susan and all royal corgis are descendants of this cherished pet, who was even taken on the Queen's honeymoon.
As much as the Queen loves her corgis, I'd bet money on Kumeu-based corgi owner and breeder Barbara Stronach being just a little bit more obsessed than the Queen.
Inside her home are specially commissioned portraits of some of her corgis, a clock in the shape of a corgi, plates and mugs painted with corgis on them, soft toy corgis, corgi pen toppers, embroidered corgi hand towels in the bathroom - even Stronach's socks have corgis on them.
Her corgis have led her into interesting situations and brushes with faux royalty. Stronach was recently interviewed on television's Good Morning and has taken her corgis on walk-arounds with the Queen (albeit an impersonator) at shopping malls. She says the corgis well and truly upstaged Her Majesty.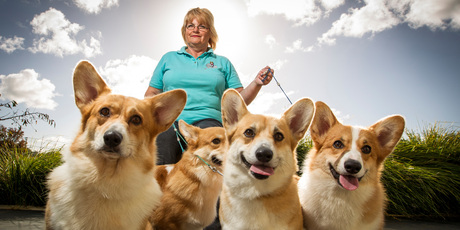 Stronach thinks the breed is a good match for the Queen, because the dogs have a steady temperament, are good family dogs, don't take up too much room and are great companions.
"They're known as a big dog in a small dog's body. They love company - they'll sit with you and when you get up, they'll come with you - they are constant companions."
If you'd like to follow the Queen's passion, Stronach suggests the best way to choose a corgi is to go to a breeder and get to know the parents of the puppies.
"Sit down with the parents of the puppy you're interested in," advises Stronach. "You'll want them to come and play with you rather than sit back - that's a good way to judge a dog's temperament."
Just remember to buy a good vacuum-cleaner on the way home from the breeder. A sign in Stronach's home reads: "Dog hair, it's just part of the decor in this house."
Kick up your heels
Every year, the Queen (patron of the Royal Scottish Country Dancing Society since 1952) gives dances at Balmoral castle for locals and neighbours. The Ghillies' Ball spans all levels of society.
Scottish country dancing, not to be confused with the competitive solo dance sport of Scottish highland dancing, is a ballroom dance that's highly sociable because you dance in sets with up to eight people and get a chance to dance with every person on the opposite side to you.
"It's very vigorous, and it's very social dancing," says Lois McEwan, a dance teacher at the Milford Scottish Country Dancing Club. "We've had a few weddings as a result."
There are wonderful YouTube videos of the Queen Scottish country dancing at Balmoral and the historical footage shows a different side to the royal family.
"The Queen very much enjoys Scotland and dancing is part of the life she's had there," says Katharine Hoskyn, who has been Scottish country dancing for 30 years and teaching it for 25. "You need to use your brain in Scottish country dancing, in terms of sticking to the patterns. It's also good physical activity and set to wonderfully vibrant music - it's a good combination of mind, body and music."
On June 21, at 7.30pm local time wherever you are around the world, a special Get Scotland Dancing ceilidh is planned with New Zealand being the first country to kick up its heels. The event leads up to the Commonwealth Games in Glasgow. See getscotlanddancing.org for details. The Waipu Highland Games on January 1 is another opportunity to show off your Scottish country dance skills and make new friends.
Royal Mail
When my grandparents celebrated their 60th wedding anniversary, we arranged for a special congratulatory message for them from the Queen. I was surprised how easy it was to arrange at website apply.royal.gov.uk.
Even though I think they preferred the letters from their great-grandchildren, it was still an exciting part of their anniversary day.
The Queen in Auckland
You might know Judy Rankin for any of the four characters she's played on Shortland Street, or any number of theatre productions she's acted in. But, for many Aucklanders, she's also the Queen.
"The impersonating started with a club night at Howick Little Theatre when I was reading a part with the Queen in it," explains Rankin, who was often compared to Princess Margaret when she was younger. "I took some things from wardrobe and people said I looked a bit like her.
"A local business rang the theatre looking for a person to play the Queen at an event they were holding and the theatre staff pointed them in my direction."
"We've all got a doppelganger somewhere," says Rankin, who admits she has a very good wig that helps her get into character. "I've learnt to do the mannerisms, inclining my head and standing slightly pigeon-toed and I've watched videos of the Queen to get an essence of her. But I haven't got the same smile. I look more like me when I smile."
As the Queen, she has done everything from television commercials to corporate functions, 100th birthday parties and weddings to retirement roasts. 2Degrees even put her on a float as the Queen in its Farmers Santa Parade float.
Rankin says the nicest thing about playing the Queen is that people tend to be very polite to her, as well as curtsy and bow. She says her partner is very supportive and drives her to the events, but she does get strange looks on the motorway.
"I usually don't put the tiara on in case it's distracting," says Rankin, concerned. "I would hate to cause an accident."
Fine China made in England
Stuffed on top of each other on dusty shelves in Antiques of Epsom's cluttered store is a collection of royal-themed china, mostly made in England. There are Royal Albert coronation mugs from 1953 featuring a young Queen Elizabeth II, as well as those of King George V, dated 1911.
Brian Ronson has owned the store for 20 years and sold royalty-themed china throughout. He says the best piece he collected for sale was a loving cup (a mug with two handles). It was created for the jubilee in 1936 and valued at around $4500.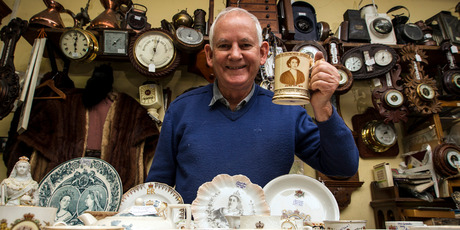 His oldest piece was a collector's thimble commemorating the coronation of Queen Victoria in 1837.
"Interest in royal-themed antiques does wax and wane," says Ronson. "When Princess Diana died there was a huge demand for things with her likeness, but now people have tended to forget all about her. However, anything with the Queen on it, as well as items dating back to Victorian times, are always popular."
"All sorts of people collect royal items," says Ronson. "You never know who will turn up - we once had an American guy off a boat who bought 20-odd pieces. We always stock royal items and next decade there will be a new King so that will revive interest."
He says the items are seldom used by collectors, just kept in cabinets. If you're interested in starting a royal memorabilia collection, Ronson advises: "Do it for yourself and collect items that interest you. Collecting antiques is about sheer enjoyment and making finds, rather than concentrating on the value."
• 463 Manukau Rd, Epsom, ph (09) 630 1440, myantiqueshops.co.nz
Follow Life & Style on Twitter and Facebook.