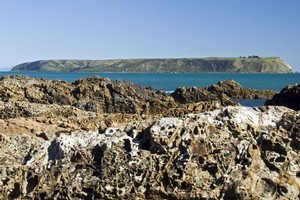 Police say a paua diver missing in Titahi Bay in Porirua may still be alive.
The 49-year-old father was last heard from about 6pm yesterday when he sent a text to his wife indicating he had found a good dive spot. The man's wife reported him missing to police about 11pm.
An aerial and shoreline search began today at first light, involving land search and rescue volunteers, a police launch, the Mana Coastguard and two Kapiti Coastguard boats, as well as the Westpac rescue helicopter and the police dive squad.
Officer in charge Inspector Mike Wright today said the search would continue and police would reassess the situation at the end of today.
He said the man was from Dunedin and had lived in Wellington for about two years, working in the finance industry. He understood the man was a father of four young children.
Mr Wright said the man, who was wearing a wetsuit, was a confident swimmer and an experienced diver who had a "pretty good" chance of survival.
"We're reasonably confident we'll find him close to shore...We believe that he could easily be alive now if he is still in the water," he said.
However Mr Wright said people should never dive alone and always take at least one buddy.
Mr Wright said the man's wife and children were naturally concerned.
A backpack belonging to the man has been found, about 1km south of Titahi Bay beach, which provided search teams with a point of entry into the water. The backpack contained personal items including a cellphone and wallet.
Police had also found the man's car, which was parked in Titahi Bay, he said.
An area from Rocky Point in the south, to Pukerua Bay in the north and out to Mana Island was being searched.
Boaties in the area were urged to be vigilant and report any information as soon as possible.
The name of the man will not be released until next of kin have been notified of his disappearance.
- NZPA