No man's ever too famous to disobey his nan. Koi Boy Ngahere (Nuz) Ngatai is living proof.
When the Kois were in town as star performers at last Saturday's Lakeside that became 'Lakeside inside', he had no choice but to sit down for a face-to-face with Our People because his nan, Nari Ngatai (Our People, April 18, 2015) ordered him to, regardless of how time-pressed he was - so pressed that less than 12 hours after Lakeside the Kois were back in Brisbane for their regular Sunday afternoon gig in the restaurant whose name they carry.
Brisbane-based they may be, but these are down-home Maori guys who've stuck to their roots.
Take Nuz; his Rotorua birthplace means far more to him than fame and fortune, it's where the bulk of his whanau are.
"Nan's a Morrison so I've got cousins by the hundred."
For Lakeside he shunned a swanky hotel stay, 'crashing' at his uncle and aunty's, Nicky and Jenny Brell. Nan and 'Pups' (koro Harry Ngatai), Jenny's parents, were there too, home specifically to see the moko they helped raise perform on his turangawaewae (ancestral and spiritual land).
Nuz isn't the only Koi Boy with Rotorua links, Danny Faifai's wife, Waiata (nee Raponi) is a Whaka girl. He too was relative-hopping during the Kois' whistle stop visit.
But it's Nuz who's been press-ganged into sharing his life story.
He's the only child of John Murray Ngatai and his wife Bessie, a Te Moni, who, as a youngster, toured Europe and America with Trevor and the late Atarita Maxwell and the New Zealand National Band. Who can doubt her boy's home town links?
Bessie was another present to cheer the Koi Boys on at Lakeside - she and Nan Ngatai were Nuz's on-camera support crew during The Voice Australia.
That show may have made Nuz a household name, sent fans swooning, but for him it was a mere port of call in a life of dancing and making music.
His hip-hop carer launched at Brisbane's Christian Outreach College.
Post-school, as a member of the crew Decifa, he spent two years hip-hopping his way through competitions and night clubs.
"I got into it by watching music videos, loving R&B and Usher, my favourite artist because he can dance and sing; I wanted to be like him."
At 19, life became more serious; he studied for an IT diploma in Network Engineering, a boon for the Koi Boys' social media presence.
"I was quite a nerd, actually I am still a nerd," he stage whispers - not specifically telling Our People we're not allowed to broadcast that wee gem far and wide.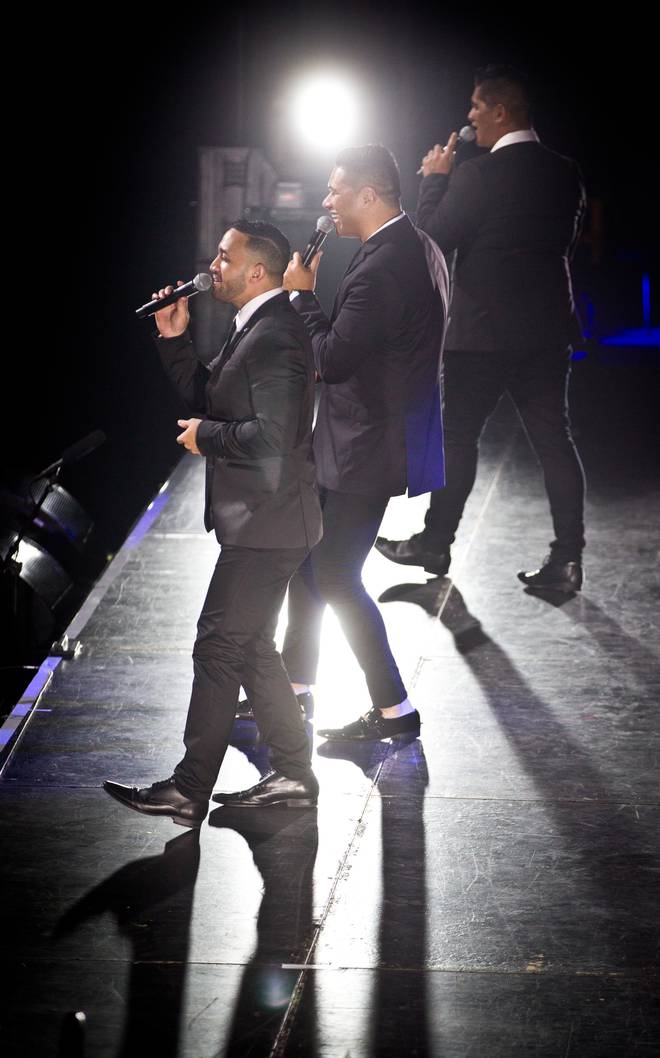 Emboldened, we reveal another Nuz secret. At Lakeside he was carrying a significant leg injury; watching those fancy moves who'd have thought? That's professionalism for you.
"When it comes to show time, you can't let people know you're sick, struggling, have hardships; if you don't perform as expected you're dead. You have to give 100 per cent, you keep that [injury] outside [the performance]."
The conversation returns to his singing and dancing - the former took him into the latter.
"I wouldn't say I was the greatest performer but when I was 21 or 22 I did gigs with the group Out There, we used to emulate Danny and Kev [Keepa - both now his Koi Boy buddies], they were just so good."
Nuz also gigged solo, singing Sunday sessions at a Sanctuary Cove bar-restaurant.
"I was at the Koi restaurant, Danny and Kev were performing, got me up, it just so happened I knew all their routines so it [the Koi Boys] went from there, a trio that's been together 10 years."
Enter The Voice Australia - a YouTube clip of Kevin and Nuz singing their trademark Sh-boom was a magnet for a talent scout.
"They looked on us as a duo, I said 'would you consider a trio?' they said they'd never had a trio but we had great chemistry."
The Kois chose pop singer judge Jessie J as their mentor, were through the super battles when Jessie unexpectedly turned rabid dog (our words) on them, spearheading their elimination.
"She said we were too 'boy bandy', didn't like our dress appearance, we were confused."
Would gutted perhaps be a better word? Actually, no.
Within three weeks the Koi Boys were under contract to Universal Records - recordings and major appearances have flowed since.
Both sides of the Tasman have embraced the Kois, they're now ping-ponging between the two countries; last year they took centre stage at Singapore's Grand Prix.
Nuz is unfazed by their Voice dumping. "The whole purpose of going on it was to win, to get a recording contract, we didn't win, just short-cut our way to the contract."
The conversation U-turns back to his parents and grandparents.
"I am an only child, after I was born and back in Brisbane Mum and Dad were working nights so they brought Nan and Pups over to look after me.
"My grandparents have been the reference point for so many people, Nan's standfast Christian faith has been a huge influence on all of us, making sure we do the right thing. My Sunday work means I don't get to practise it enough but all the root foundations are there."
So too is the value of commitment. Nuz was 19 when his father persuaded him to buy a house.
"It wasn't a priority, I was a bit unappreciative, but with my gigging I'd paid it off by 29. Now I want to do for my parents what they did for my grandparents - work hard, pay them back for all they've done for me."

NGAHERE (NUZ) NGATAI
Born: Rotorua, 1984.
Education: Brisbane Christian Outreach College (Years 1-12), Spherion Institute (IT diploma).
Family: Grandparents: Henry and Nari Ngatai, parents John Murray and Bessie Ngatai; large Rotorua whanau.
Interests: Fitness, nutrition. "I love going to the gym, eating healthily." Socialising.
"My three American Staffordshires." Social media "marketing our group".
On his Rotorua connections: "Geez, so many great performers have come out of here I'd love to keep that up, that's my Rotorua pride coming through."
On being young and famous : "I would say it's exciting and humbling to be in a position to influence others by example."
Personal philosophy: "When you do something, singing, sport, whatever it is, commit to it 100 per cent."