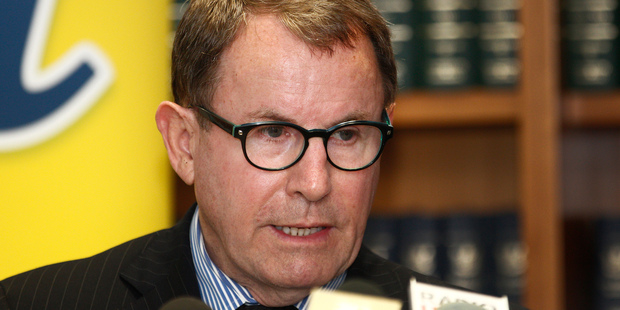 Greetings.
E hoa ma, two important issues have come to light recently.
Firstly, you would now recognise that the notion of the Maori Party being "in the pocket" of the National Party is simply not true. Second, if you think carefully about it, right now the Maori Party holds significant power.
Let me explain.
The Maori Party is not National, or anyone else for that matter. We are our own party, we have our independence, our own philosophy, our own organisation.
That is why we voted with Labour recently with their Paid Parental Leave Bill as well as having supported the original bill put up by National during the Budget.
National's one voted to include more parents to widen the eligibility, whereas Labour's one seeks to extend the leave from 18 to 26 weeks both were worth supporting.
That was that.
Second, because to the resignation of John Banks, if National wishes to advance their agenda, approval or otherwise rests in the hands of the Maori Party.
For example, National has proposed new laws around workers throughout the country but from the Maori Party perspective those laws will not assist workers and are very limiting.
Because of that, National cannot pass the law because of our opposition to it. In other words, we have the final say.
Even though there are just three of us, that is a major focus for us to absolutely hold the balance of power. So think carefully about your vote e hoa ma.
Let me acknowledge the Minginui community.
For those who wonder where Minginui is, it is in the forest on the way to Ruatahuna.
Where is Ruatahuna?
Get with it. In its day, according to what I have heard, Minginui was a thriving community. It was a forestry town and although that is all gone now, the community remains very resilient. A major hui was held there to talk about employment opportunities, insulation of houses and registering to vote. Congratulations to Minginui.
This is the last article before the election so let me simply thank the Rotorua Daily Post for allowing me to present views as a Member of Parliament every two weeks in Maori language.
My hope is that people have benefited from these articles. So with that, luck to me in the election and good luck to you all. Each and every one of you has the power to influence the result so take advantage of that and make sure you vote.
I welcome your feedback. Email mpwaiariki@parliament.govt.nz. Phone 0508 924 274.
Te Ururoa Flavell is the co-leader of the Maori Party and the Waiariki MP.
Maori translation:
Kia ora mai tatou katoa,
E hoa ma, i nga wiki tata kua hipa, e rua nga kaupapa nui he rukahu tonu nga korero e mee ana, kei roto te Paati Maori i te pukoro o te Nahinara, a, tuarua, mena ka ata whakaarohia ake, i tenei wa, kei te Paati Maori te mana whakahaere o te motu i me whakamarama ake au i enei korero.
Tuatahi ehara te Paati Maori i a Nahinara a wai ranei. He roopu motuhake nei, kei a matou o matou ake kaupapa, o matou tikanga whakahaere. Koia nei matou i pooti nei i te taha o te Reipa inaia nei tona pire Paid Parental Leave. Ae i puta tetahi raruraru i te wa pooti engari, ara ano nga painga o te tautoko i te Reipa pire. Ko tera, tera tuarua, i te rihainatanga o John Banks, mena e hiahia ano a Nahinara ki te whai atu i etahi kaupapa, ko te whakaae - tanga, ko te whakahetanga ranei kei roto i nga ringaringa o te Paati Maori. No reira, kei e Nahinara etahi tikanga hou mo nga kaimahi o te motu engari ki ta te Paati Maori titiro, e kore ana tikanga i awhina i nga kaimahi, he mea tami ke!! Na tera ahuatanga e kore e taea e te Nahinara te mana ko tana e pirangi nei na te whakahee a te Paati Maori, no reira, koia tera!! Kei te Paati Maori te kupu whakamutunga.
Ahakoa tokotoru noa iho matou, koia na te whainga matua o te Paati Maori, kia noho hei mana ki tetahi o nga roopu nui. No reira, ata whakaarohia to pooti e hoa ma.
Kaati me whai wahi au ki te mihi ki te hapori na o Minginui. Mo te hunga kore mohio mo Minginui, kei te ngahere i te rori ki Ruatahuna. Kei hea Ruatahuna? Katahi ne koutou! He ra ona, e ai ki nga korero i ten oho kii tonu taua wahi, ko te mahi o te ngahere te mahi. Kua hinga pai tera ahuatanga, engari, he pakari tonu taua hapori. He hui nui i tu i reira ki te ata titiro ki nga kaupapa whiwhi mahi engari ko nga take whakamahana whare i korerohia otira ko te rehita ki te pooti. Ka pai hoki Minginui.
E hoa ma, koia nei te tuhinga whakamutunga i mua i te Kowhiringa Pooti no reira, me whai wahi au ki te mihi ki te nupepa nei, mona i tuku mai, tetahi wahi ki a au a Mema Paremata nei ia rua wiki, ki te whakatakoto whakaaro i te reo Maori. Ka nui te mihi e hoa ma ki a koutou e whakanui nei i te reo me tea o Maori nei. Ko te tumanako ia, he painga ano kua puta na enei tuhinga aku. Kaati ake, kia kaha ki a au mot e Kowhiringa Pooti, kia kaha ki a tatau. Me pooti!