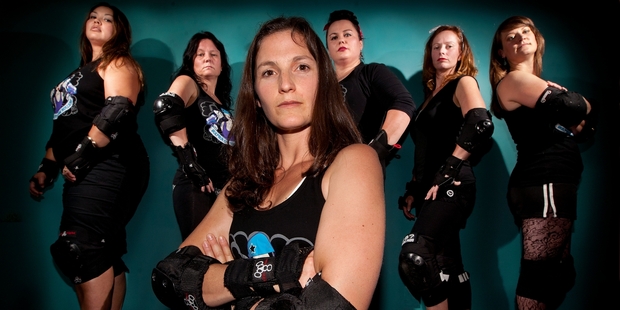 Rotorua's roller derby club is urging locals to take up the "exhilarating, entertaining and highly addictive" sport.
The Sulphur City Steam Rollers are looking for new members to join its team and take part in the fast-paced, women's contact sport.
On Monday, the club will hold an information night at Waiariki Institute of Technology gym, giving keen locals the opportunity to watch a training session and see how the game is played.
Club founder Layla Robinson said women did not have to be competent skaters or athletes to join. "About 90 per cent of the skaters who joined hadn't been on roller skates since they were about 5 years old," she said.
"Some of them went through the roller blading craze in the 90s but most of them hadn't been on skates in years, so you definitely don't have to be a pro to join."
Ms Robinson, who founded the club in 2011, said she couldn't imagine her life without the sport as it had become an addiction.
"It's something you just fall in love with, it's totally addictive. We've come up with the term 'derby widows' for the husbands and partners of our players, it's something that sort of takes over our lives, but in a good way."
She said one of her favorite things about the sport was that it was something for all kinds of women.
"It's a game where you don't feel out of place. Your skin colour, body shape, sexual orientation, whether you have tattoos or not, it all doesn't matter. It's so easy to fit in and you can make lifelong friends," she said.
While the Sulphur City Steam Rollers were an all-female club, men were welcome to join as referees, she said.
If people were reluctant to slip on the skates, anyone was welcome to join as non-skating officials or fill other roles.
Ms Robinson said the object of roller derby, in simple terms, was to score the most points by lapping opposing team members on the oval track.
The jammer is the point scorer and the other four team members are blockers.
The information night starts at 6pm. Entry is $2. For information, visit www.facebook.com/sulphurcitysteamrollers.