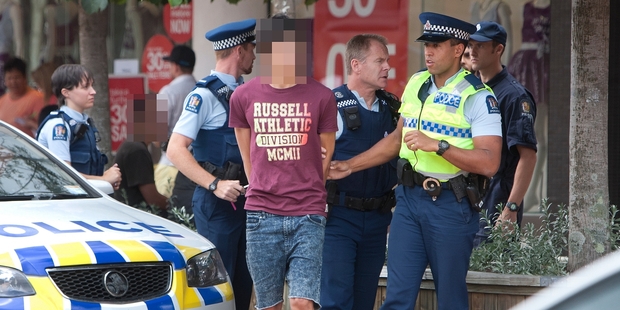 The Rotorua city centre came to a standstill as a minor dispute escalated into a fight involving up to 20 young people.
Police were called to Tutanekai St near City Focus just after 2pm yesterday. Six young people aged from 16 to 19 were taken into custody with most facing fighting or disorderly charges.
A business owner, who did not want to be named, said the incident originally started between two young people arguing near the City Focus on the Pukuatua St side.
"They started swearing at each other and then some girls started to get involved. At the end of it there were six to eight kids brawling and then another group started up under the City Focus. The whole street just stopped and watched," she said.
"As a local business owner we're sick of this, it makes me want to shut my doors. Something needs to be done, cops are here nearly every day now and it makes people not want to come into town. They will bypass the city centre and go to the mall instead."
Shop assistant Nancy Brons said the language the youth were using was "sickening".
"It's an absolute pain in the butt. They were yelling and swearing away."
Ms Brons said brawls were a regular occurrence and she thought it was just a bunch of young people who had nothing else to do with their time.
Another city centre worker, who wanted to remain anonymous, agreed that yesterday's fight was not out of the ordinary, but it was one of the larger ones she had witnessed.
"I've seen two women fighting and one of them dragging the other by her hair and another time with two men, one had a broomstick and they were bashing each other up," she said.
"There is usually three guys always involved, walking the block. One even wears the same clothes all the time. It's always young people involved, under 20s.
"It's not a good look, I can only imagine being a tourist and having to see that."
She said police were quick to respond with officers at the scene within minutes of the fight starting. She said City Guardians and business owners tried to stop the two groups from fighting.
Senior Sergeant Karl Konlechner said their beat staff officers had also tried to intervene and called the station for extra help. Four police units were dispatched to the scene.
"Out of the six in custody only one is a juvenile, under 17.
"Most are looking at fighting or disorderly charges with some eligible for pre-charge warnings.
"Disorderly behaviour like this won't be tolerated and we are taking a firm approach that people who behave like this can expect to be arrested."
- additional reporting Adriana Weber