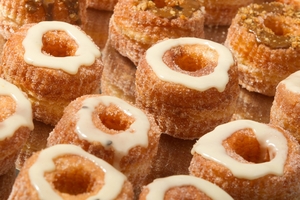 Customers at a Rotorua bakery are "going nuts" for their newest product, and even other bakers want to know how it's done but the secret behind the Go-Nut will stay just so.
Ciabatta Bakery launched its Go-Nut on Monday and the doughnut-croissant hybrid has been flying out the door, so much so that customers are limited to just three. It is owner Alex Burge's (pictured on page 1) own take on the Cronut, which was developed by New York chef Dominique Ansel in May and has since been carried overseas by tsunami-like hype.
"I initially resisted it because we don't need more deep-fried things but we have had a certain amount of pressure from staff so I decided to do one," said Mr Burge.
"That was on Friday and now we're selling a lot. People are going nuts for them. And I love them, I hate to say because I was so against them but I tasted one ... We've made croissant dough for centuries and doughnut dough for centuries and now they've been brought together, I would never have thought to put croissants in a deep fryer."
He said it took him seven batches to nail it and since publicising the creation on their Facebook page other bakers have dropped by wanting to find out more.
"We've had other bakers come in and take photos and want to know how we make them and asking about our recipe. We want to keep our methods to ourselves - some will take 20 goes and some five goes. We wanted to develop a recipe so it wouldn't take on all the oil. We've used rice bran oil as that is the healthiest. Deep fried is deep fried but we've tried to make it healthier."
Sue Burge said they had had a steady stream of customers emptying their cabinet and had kept on making batches until 2pm on the first day. Each batch takes about 30 minutes, the croissant pastry is rolled, cut and deep fried then rolled in sugar and filled with a Tahitian vanilla cream and topped with either passionfruit or coffee and walnut brittle icing.