Cellphone use while driving is still rife, as any regular road user well knows.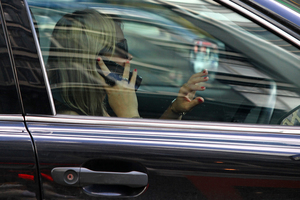 This was backed up by a one-hour sneaky photo survey by New Zealand Herald snappers this week, which counted 29 people using phones at the wheel heading north through the central motorway junction in Auckland, an 80km/h zone.
Although police were supposedly quite surprised by this result, the Automobile Association called for investigation into higher fines and most of us wondered why it had taken so long.
Doing this on the motorway is incredibly stupid. Every time you drive in the city there are people who think that because they're moving they're invisible to the naked eye and casually chat away with the phone to their ear. Then there are the fools who think that putting the phone on speaker and then holding it front of their faces is acceptable.
The stealth texters are probably the most dangerous - they're the ones with eyes flicking up to the road and back down at their phone every couple of seconds to compose a text or add a Facebook status update. These people's social lives are significantly more important than everyone else's actual lives - at least it seems that way.
Modern cars do have a lot of clever tricks to help keep your eyes on the road - Bluetooth hands-free kits, head-up displays, steering wheel-mounted stereo controls, sat-nav systems that dictate directions in the dulcet tones of your own choice - but there are still distractions. Most of these distractions are of our own doing. How many times have you seen someone battling a thermonuclear service station pie while driving, or applying make- up, or even reading the paper?
The cellphone ban has led to more than 12,500 tickets written in the past year, and it's steadily risen every year since the ban started. It's $80 and 20 demerits for an offence.
This doesn't seem to be working - what needs to be done? Tell us your thoughts