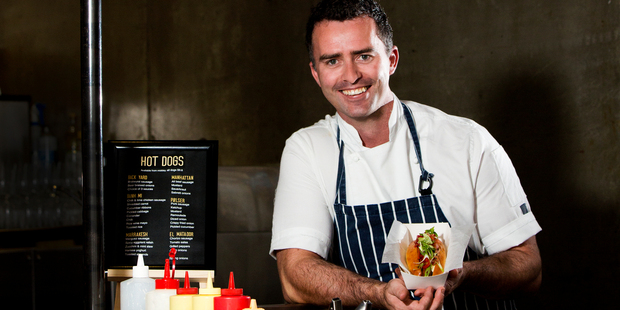 It's a worldwide trend - top chefs moving into gourmet fast food and now chef Sean Marshall (Roxy) is the latest restaurant chef to bring us fabulous food on the go.
Marshall is a self-confessed hot dog obsessive and says there's nothing like a good hot dog from a street vendor in New York - or Copenhagen, where he's spent a lot of time.
Together with Imperial Lane he's created this cute hot dog stand now open and serving hot dogs like no other.
Perfectly soft, Vienna-dough buns are made in-house then stuffed with Marshall's seriously good sausages, custom-made by Neat Meats, and condiments to drive you wild. Take the "Marrakesh", a Moroccan-inspired hot dog with North African merguez sausage, spicy eggplant relish, zucchini and mint slaw, harissa yoghurt and a sprinkling of toasted almonds. Or our other favourite, the Vietnamese-style "Banh Mi", featuring a chilli and lime chicken sausage, pickled cabbage with fresh coriander and chilli, a carrot and cucumber salad, rice wine mayo and toasted ground rice. Of course, Marshall has the classics, too, with a "Manhattan" featuring a beef wiener sausage, dijon sauerkraut and Sabrett onions.
At $9.80 each, these are damn fine dogs. An adjacent beer cart takes care of that other craving, too.
• 7 Fort Lane/44 Queen St, City. Ph (09) 929 2703. Open Sun-Wed: 3pm to late, Thurs-Sat: 12pm to late.