Herald Rating:
3/5
Address:
38 Barry's Point Rd, Takapuna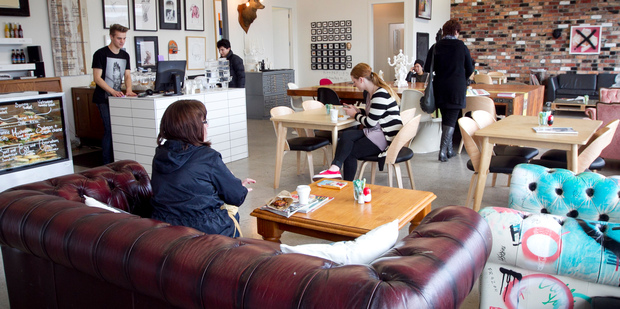 We came here because I'd had a decent soy latte here while waiting for the car to be groomed down the road and was keen to have another look at the Federation prints and framed butterflies on the wall.
Parking was available in one of two parks right outside, or in the carpark of Laundromat clothing boutique (also owned by the Federation guys), next door.
We walked in and immediately thought it was a cool, bright space, with artfully mismatched furniture, quirky coffee mugs and a relaxed, pop-kitsch ambience.
The most unusual thing on the menu is the coronation chicken foldover - sweet and spicy ($6.50), from the cabinet. Laundromat doesn't do cooked brunches but has a small selection of pies, rolls, salads and sweets.
We ordered the poppy seed bagel with mushrooms and cream cheese ($6.50) and the ham bun with caramelised onion ($6.50).
Both had tasty fillings but after we were asked if we'd like them toasted, they came back chewy, as though they'd been zapped in the microwave. We also took away a simple but yummy pear and ginger cake and a lemon tart (both $4.50) and asked for a slice of the bacon and egg pie ($5).
It wasn't until we got home we realised it wasn't in the bag.
The service was welcoming and chatty from the two young guys behind the counter. The forgotten order was disappointing though.
The coffee was smooth, with beans by Supreme.
We recommend if you come here, give yourself time to browse and to pop into the concept store next door.
Overall we thought Laundromat's industrial locale means it's not an obvious choice for a weekend brunch but there's plenty of personality inside.