Rating: 4/5
Address: 1/149 Oceanview Road, Oneroa, Waiheke Island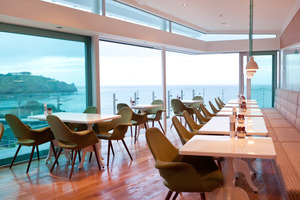 We came here because we needed a catch-up and the Wai Kitchen's balcony with views over Oneroa beach and out to the Hauraki Gulf seemed a perfect place to do so on such a beautiful, clear day.
Parking was easy, in Oneroa's main street, with more free parking behind the shops.
We walked in and immediately thought a spectacular sea view is special and something not to be taken for granted. We also were impressed by the sleek aquamarine and white decor, and the good selection of magazines to browse. This is a place you would feel quite comfortable dining with friends or solo.
The most unusual thing on the menu was, well, where do we start? Crab omelette, chilli, sweet soy and green onion certainly isn't standard fare on many Kiwi brunch menus. Corned beef, potato, poached eggs, chives, cream also struck us as an innovative option.
We ordered the panfried chicken livers, pancetta, leek, Pedro Ximenez brioche ($21.50) and the pancetta, eggs, vine tomatoes and onion marmalade with toast ($18).
Both meals delivered everything they promised, looked great, were delicious and satisfying.
The service was quick, friendly and knowledgeable. The waitress also gave us plenty time to peruse the menu when we couldn't make up our minds.
The coffee was perfect. So good that we ordered another round.
We recommend if you come here take time to really enjoy the view. It is something very special.
Overall we thought Wai Kitchen was pretty darn good. The prices aren't cheap, but nothing much is on Waiheke Island.