Herald Rating: 4/5
Address: 256 Karangahape Rd, Newton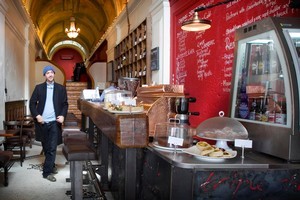 We came here because we were curious to see how things had changed since this building housed the famous Brazil Cafe.
Parking was difficult on K' Rd but we found a pay and display on Mercury Lane.
We walked in and immediately thought it's great to see a heritage building restored to its former glory. Once the entrance to the Mercury Theatre, its long, narrow interior, sweeping marble staircase and domed ceiling is like the Freda Stark of K' Rd, slim and graceful with an art deco glamour.
The most unusual thing on the menu was the Cypriot vegetable, orzo pasta and tahini soup, served with crusty bread ($10.50).
We ordered the eggs benedict with bacon ($16.50), a light, zesty dish as opposed to the rich versions you often get (it also comes with ouzo-cured hot smoked salmon); and eggs and toast ($7.50) with sides of bacon ($5.50), spinach ($4) and mushrooms ($4.50). The eggs were poached perfectly and dusted with paprika, served on crisp, lightly charred bread.
The bacon was plentiful and tasty. The vegetable dishes were kept simple - which makes sense for sides.
The service was mostly very good. It might have been the first day behind the till for one of the young staff but our waiters were excellent, particularly the smiling waitress who knew the history of the building, including its former lives as Handmade Burgers and the Norman Ng fruit shop.
The coffee was Miller's and was creamy and strong, maintaining this spot's reputation for a decent caffeine hit.
We recommend if you come here stay for lunch. The menu is influenced by Greek and Egyptian cuisine and looks intriguing.
Overall we thought the room had an austere elegance and Theatre's food did too. Clean, simple dishes with a twist.