Herald rating: 3/5
Address: 2/106 Ponsonby Road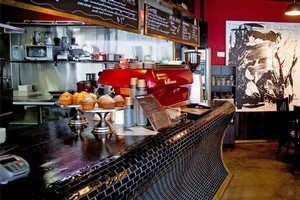 We came here because we were intrigued by the name - would it be as crazy as it implied?
Parking was a lucky find right outside the cafe, because it was hosing down.
We walked in and immediately thought it was small and modern but with a lively, friendly feel.
The most unusual thing on the menu was not an issue, it seemed largely traditional breakfast fare with a Mediterranean twist.
We ordered a B & E crepe - a hearty breakfast crepe with crispy bacon, egg and cheese ( $8.90) and a BedLam omelette with bacon and feta ($13 - a third filling could be added for another $3). Both were just as they should be.
The service was super-friendly, with the staff happy to chat with customers - a welcome change from some cafes.
The coffee was good - and welcome, given the weather.
We recommend if you come here, after a coffee or meal, head off to trawl the treasures of Ponsonby's shopping strip.
Overall we thought BedLam showed no signs of psychiatric disorder (must be due to the capital L), but was a well-organised little cafe.