Find more restaurant reviews with our Google map
Herald on Sunday rating: 3.5/5
Address: 18 Birkenhead Avenue
Phone: (09) 480 7211
Website: indique.co.nz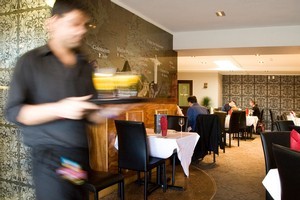 I always welcome reader recommendations of restaurants. But I sigh when someone suggests I check out their local Indian, Thai or Chinese, swearing it is the best on the planet. The suggestion is appreciated, of course, but no good can ever come of it.
The problems are twofold: first, most Asian restaurants are pretty good; they would not survive in such a competitive environment if they were not. But, as the Sunday Times' A.A. Gill said at the Auckland Writers and Readers Festival in May, 3.5-star restaurants are anathema to writers: when you sit down at the keyboard, the word count of a review of a "pretty good" restaurant is a forbidding expanse stretching out before you.
Second, a local restaurant becomes your favourite, in part, because it is local. As long as it's not terrible - and sometimes (trust me) even when it is - people conceive a liking for the local because they feel a sense of ownership.
It's the place they go when they've had a hard day, and they always emerge cheered up.
It's somewhere they're recognised, welcomed back, taken special care of. In short, it may not all be about the food.
All this went through my head when a colleague urged me to try Indique - her local. She is English, and the Poms know a bit about curry, so I asked her what was so different about this place.
"The difference is that it's really good," she said.
I wrestled with the urge to recite her a version of the foregoing and instead tucked the idea away. And, on a vicious recent midweek night, we crossed the harbour bridge to Birkenhead.
In the middle of the Birkenhead shops Indique is, oddly, across the road from where the Google map on its website places it, which makes it a bit confusing.
It's even more discombobulating when you go in, because the ceiling slopes slightly so that the artwork and heaters - of which there are plenty - seem to hang crookedly. It's hard to resist the temptation to grab the table-edge to steady yourself.
Once you're seated, though, things quickly improve. The service here is superb, I have to say. Our personable waiter eagerly helped us compile a selection of dishes that would answer our preferences while giving the kitchen a chance to strut its stuff.
The three of us shared a mixed appetiser - they call them sizzlers because they come on a bed of onion, hissing on a steel plate - of vegetable samosas, onion bhaji, chicken morsels done in yoghurt and lemon, and lamb kebabs, which were all satisfactory without being sensational.
In the mains selections, I was intrigued by the section headed "Chinese in Indique Way", which is the menu's only real evidence for the restaurant's name (an elision of "Indian" and "unique"). I chose the so-called "Vegetable Manchurian", whose name suggests an origin in China's northeast, as far as you can get from India. These were doughy but tasty dumplings in a garlic sauce, a nice surprise since Indian cuisine usually serves dumplings in sweet dishes. Our other choices - a lamb "balti" gosh and a goat curry - were equally good; the meats juicy and tender, the fire at a perfect heat.
A small chutney platter (mint, tamarind, pickle) with some raita and naan bread completed the package.
The team at Indique ran a well-regarded place in the shops at Manly on the Whangaparaoa Peninsula before they opened here and are foreshadowing a city branch soon. Their enthusiasm and attention to detail should guarantee success.
If they show up in my neighbourhood, I'll go often. But until then, I have my own local.
Need to know
Value: $
Look: Smart suburban
Try: Kingfisher strong beer (7.2 per cent)
Bottom line: Unusual, but not unique
$ = $20-$40; $$ = $40-60; $$$ = More than $60
(Price guide reflects the cost of three courses for one person without drinks.)
OTHER INDIAN DELIGHTS
Everyone has their favourite Indian and jolly good luck to them. These are two of my favourites: the former deserves its good reputation, the latter merits more attention.
Branches in K Rd, Great North Rd and Sandringham set the gold standard for South Indian food.
Ras Vatika
Address: 596 Dominion Rd, Balmoral
Phone: (09) 023 2145
This Gujarati vegetarian place near the Capitol is cheap as chips and the masala dosa is to die for.